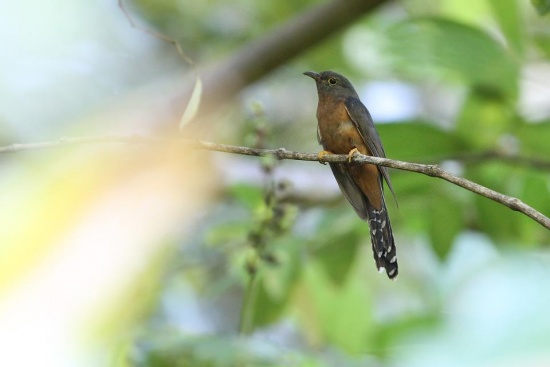 Alternative names: Heinrich's Brush Cuckoo; Moluccan Brush Cuckoo; Heinrich's Cuckoo
Cacomantis aeruginosus
Cacomantis heinrichi
Identification
A long time only known from specimens taken in 1931. However, recently rediscovered on Halmahera, Bacan and Seram. 23cm.
Dark olive-brown upperparts
Dark grey throat
Dark rufous breast and belly
Dark reddish undertail-coverts
Sexes similar. Juveniles are dark above and barred below.
Similar species
Differs from Brush Cuckoo in smaller size and wing length and in having brighter yellow feet.
Distribution
Endemic to Seram, Sula Islands, Bacan, Seram and Halmahera in the Moluccan Islands in Indonesia.
Population little known but certainly declining due to habitat loss.
Taxonomy
Two subspecies recognized:
C. a. heinrichi on Halmahera and Bacan, Northern Moluccas (Indonesia)
C. a. aeruginosus on Buru, Ambon, Seram and Sula Islands, Southern Moluccas (Indonesia)
The subspecies aeruginosus was formerly included in Brush Cuckoo.
Habitat
Moist lowland forests and moist montanes.
Occurs at 1000 - 1500m but reported much lower on Bacan.
Behaviour
No information. Feeds probably on insects.
References
Clements, J. F., T. S. Schulenberg, M. J. Iliff, D. Roberson, T. A. Fredericks, B. L. Sullivan, and C. L. Wood. 2015. The eBird/Clements checklist of birds of the world: v2015, with updates to August 2015. Downloaded from http://www.birds.cornell.edu/clementschecklist/download/
Del Hoyo, J, A Elliot, and J Sargatal, eds. 1997. Handbook of the Birds of the World. Volume 4: Sandgrouse to Cuckoos. Barcelona: Lynx Edicions. ISBN 978-8487334221
Recommended Citation
External Links