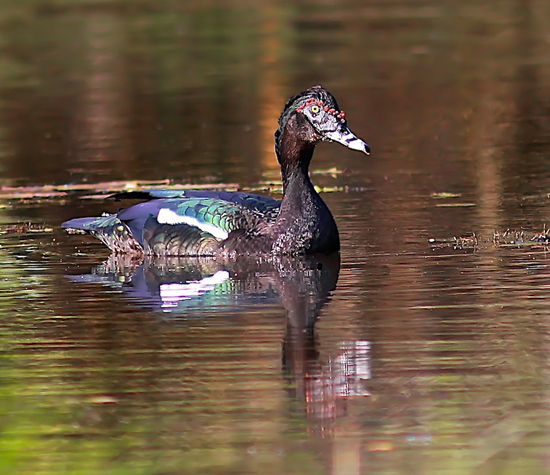 Cairina moschata
Identification
L. 86cm.
Dark
White in the wings
Long talons on feet
Wide flat tail
Bare red face with a caruncle at the base of the bill
Low erectile crest of feathers
Distribution
Mexico, Central America and South America. Domesticated and feral birds are widespread.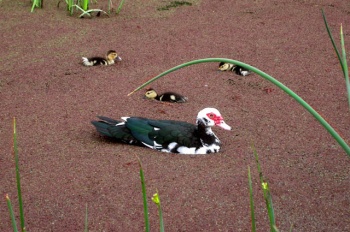 Taxonomy
Habitat
Forested swamps, lakes and streams.
Behaviour
Breeding
8-16 white eggs are laid, usually in a tree hole or hollow, and are incubated for 35 days.
Diet
Includes plant material obtained by grazing or dabbling in shallow water, and some small vertebrates and insects.
References
Clements, J. F., T. S. Schulenberg, M. J. Iliff, B.L. Sullivan, C. L. Wood, and D. Roberson. 2013. The eBird/Clements checklist of birds of the world: Version 6.8., with updates to August 2013. Downloaded from http://www.birds.cornell.edu/clementschecklist/download/
Recommended Citation
External Links
Search the Gallery using the scientific name:

Search the Gallery using the common name:
GSearch checked for 2020 platform.