Spizaetus ornatus
Identification
23 - 26 inches, wingspan 3 - 4 feet, weight 2 to 3 1/2 pounds
Prominent pointed crest, raised when excited
Black bill
Broad wings
Long rounded tail
Black crown and upperparts
Bright chestnut sides to neck and breast
Black-edged white throat and central breast
Remaining underparts and feathered legs are white barred with black
Broad black bars on tail
White underwings; flight feathers barred grey (as such, the adult is a rather pale bird when seen from below). Wings are narrower near the body and very broad the rest of the way.

Sexes are similar
Young birds are have a white head, crest and underparts, with brown upperparts, and barring only on the flanks and legs.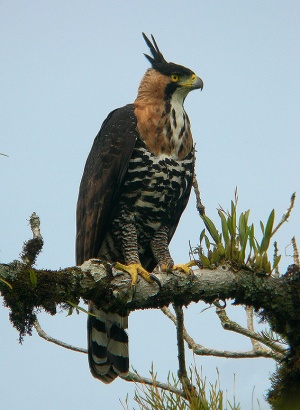 Distribution
Central America (from southern Mexico) and subtropical and tropical South America including Trinidad.
Taxonomy
Subspecies
Two subspecies are recognized:
Habitat
Humid forests from lowland swamp forests to higher elevation primary forests. Observed at 1,200 meters.
Gallery
Click on images to enlarge
Behaviour
Diet
Its diet includes medium-sized birds, mammals, and sometimes reptiles.
Breeding
Display flight is rarely seen but includes fast vertical dives as well as U shaped flight where the bird (probably the male?) starts out going down vertically on outstretched wings, gradually bending the path to the bottom of a U and ending up going vertically up, still on outstretched wings. During display, it will call in series of single whistles[2]. Also described is a display where the male and female in flight locks talons with each other[3].
They build a large stick nest on a branch of a tall tree. 1 egg is laid and incubated for 44 - 48 days. The young hawk-eagle will fledge from 9 1/2 - 13 weeks after hatching, but will stay near the nest and be fed by the parents for up to 1 year after fledging. The female Ornate Hawk-Eagle does most of the feeding of the chick while it is in the nest. The male will bring food to within a few hundred feet of the nest and give the food to the female, but usually does not feed the young.
Vocalizations
In regular flight known to give a series of whistles, often 5 but varying from 2-9 repetitions. First note may not be audible, being less loud than the rest; otherwise first note sounds more hurried (and/or slurred) and last note not drawn out, contrary to Black Hawk-Eagle. Other sounds described include a "cat cry" and excited laughter. The song is described as a series of shorter and longer whistles given in a series that does not sound structured.
References
Clements, J. F., T. S. Schulenberg, M. J. Iliff, B.L. Sullivan, C. L. Wood, and D. Roberson. 2012. The eBird/Clements Checklist of Birds of the World. 6th ed., with updates to October 2012. Ithaca: Cornell Univ. Press. ISBN 978-0801445019. Spreadsheet available at http://www.birds.cornell.edu/clementschecklist/downloadable-clements-checklist
Birdforum member njlarsen personal observations
Richard ffrench. 1991. A guide to the Birds of Trinidad and Tobago. Comstock/Cornell Paperbacks. ISBN 0-8014-9792-2
Howell & Webb, 1995. A guide to the birds of Mexico and northern Central America. Oxford University Press. ISBN 0198540124
Restall et al. 2006. Birds of Northern South America. Yale University Press. ISBN 9780300124156
Ridgely & Gwynne 1989. Birds of Panama. Princeton Paperbacks. ISBN 0691025126
Garrigues and Dean 2007. The birds of Costa Rica - a field guide. Cornell University Press. ISBN 978-0-8014-7373-9
Ber van Perlo. 2009. A field guide to the Birds of Brazil. Oxford University Press, New York, NY, USA. ISBN 978-0-19-530155-7
Wikipedia
Recommended Citation
External Links