Tangara chilensis
Identification
12–13 cm (4¾ - 5 in)
Light green hood
Upperparts black
Reddish-orange lower back and rump (often hidden behind the wings)
Black belly
Violet throat
Turquoise underparts
Black eye ring
Black beak and legs
Sexes similar
Distribution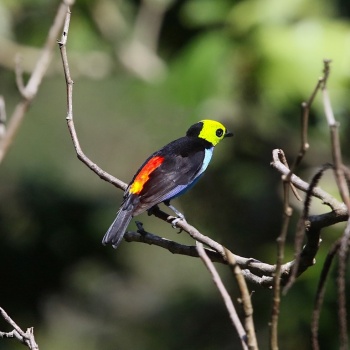 Bolivia, Peru, Ecuador, Colombia, Brazil, The Guianas and Venezuela.
Taxonomy
Four subspecies are recognized[1]:
South East Colombia to northern Bolivia and western Amazonian Brazil
East Venezuela to the Guianas and northern Brazil
North-central Peru (upper Huallaga Valley)
Habitat
Found high in the canopy in forests, forest edges and near clearings. Observed at heights around 610 m in Peru and less than 1500 m in Ecuador.
Behaviour
Diet
They are usually found in groups of four to ten. Their diet consists of fruit and small berries, also some arthropods.
Breeding
Nests are built 5 - 20 m up in trees. The clutch consists of 2-4 greenish white eggs with brown and black spots.
References
Clements, J. F., T. S. Schulenberg, M. J. Iliff, D. Roberson, T. A. Fredericks, B. L. Sullivan, and C. L. Wood. 2016. The eBird/Clements checklist of birds of the world: v2016, with updates to August 2016. Downloaded from http://www.birds.cornell.edu/clementschecklist/download/
Handbook of the Birds of the World Alive (retrieved February 2017)
Recommended Citation
External Links
Search the Gallery using the scientific name:
Search the Gallery using the common name:
GSearch checked for 2020 platform.