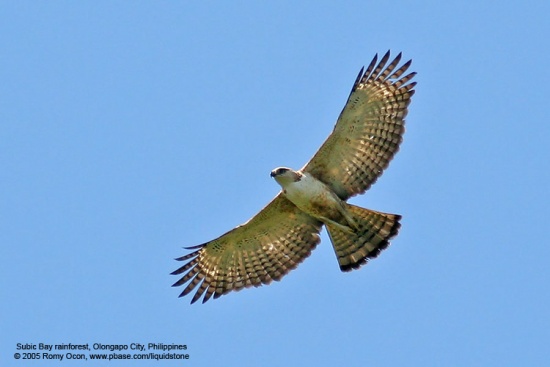 Nisaetus philippensis
Spizaetus philippensis
Identification
65-70 cm. Long black crest. Rufescent-brown crown and face, streaked darker. Dark brown upperparts. Brown tail with 4-5 darker bars. White throat. Rufous underparts with black streaking. Finely barred black-and-white "trousers". Pale iris. In flight, shows broad, rounded wings and well-barred flight feathers.
Juvenile has white head and underparts, upperparts fringed paler. Acquires adult plumage over four years.
Distribution
Endemic to Luzon, Philippines
Taxonomy
A monotypic species.
Pinsker's Hawk-Eagle was formerly included in this species.
It was formerly placed in the genus Spizaetus.
Habitat
Forest
Behaviour
Voice: Loud, disyllabic whistle.
External Links