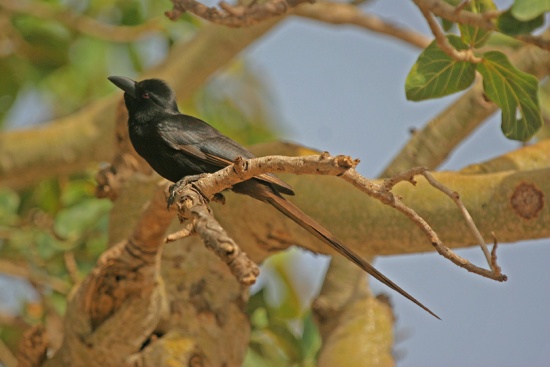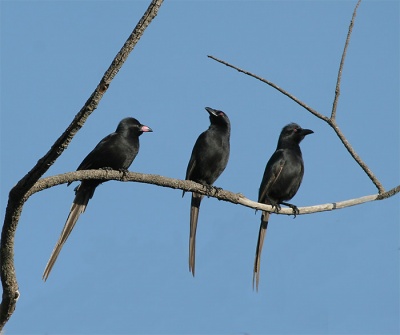 Alternative name: Black Magpie
Ptilostomus afer
Identification
35 - 42cm. A distinctive African corvid:
Very long, graduated tail with ten stiff feathers, blackish-brown
Stout bill with strongly arched culmen
Black plumage with bluish or purplish sheen
Violet-blue or purple iris with red-brown outer rim
Black legs
Sexes similar. Juveniles have a pinkish bill and brown eyes.
Distribution
Central Africa from Senegal on the west coast, eastwards in a broad band to Sudan and southern Ethiopia.
Widespread and common in parts of its range.
Taxonomy
Monotypic.
Has been thought to belong to the Starlings but recent studies show that is most closely related to the Central Asian ground jays (Podoces) and to Stresemann's Bush Crow (Ericson et al., J. Avian Biol 36: 222-234, 2005).
Habitat
Savanna with trees and patches of woodland. Forages in cultivated land with fields and pasture and small associated towns and villages.
Behaviour
Diet includes insects, invertebrates, carrion and fruit.
Forages mainly on the ground, usually in small to rather big, noisy groups.
The breeding season depends on the local rains. They build their nests in trees, often a palm, and use palm leaves, grass stems, and mud to form a cup which is lined with palm fibre. 3-7 pale blue eggs are laid. Reports on cooperative breeding with up to five adults feeding three nestlings.
Mainly a resident species but some wandering seems to occur.
References
Clements, JF. 2008. The Clements Checklist of Birds of the World. 6th ed., with updates to December 2008. Ithaca: Cornell Univ. Press. ISBN 978-0801445019.
Del Hoyo, J, A Elliott, and D Christie, eds. 2009. Handbook of the Birds of the World. Volume 14: Bush-shrikes to Old World Sparrows. Barcelona: Lynx Edicions. ISBN 978-8496553507
Recommended Citation
External Links