Spizocorys conirostris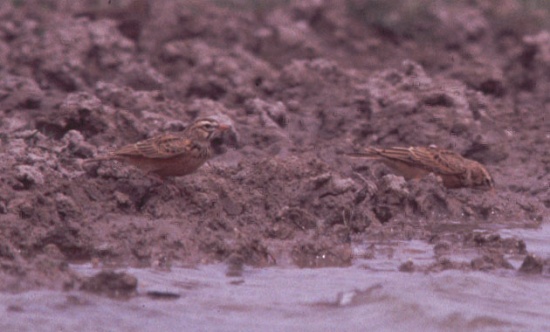 Identification
Length 12-13 cm, mass 12-17 g.
A small stocky Lark with a short, stout pink bill. The chin and throat are white, the breast is rufous-buff, streaked dark brown, and the belly and undertail coverts are rufous-buff.
Similar Species
Botha's Lark has a whitish belly, a more streaked breast, a more distinct eyebrow, a more slender bill, and its tail is edged white rather than buff.
Sclater's Lark has a longer, brownish bill, and a black 'teardrop' mark on the cheek.
Distribution
Southern Africa: Botswana, Lesotho, Namibia, South Africa, and Zambia.
Taxonomy
Spizocorys conirostris has seven subspecies:
Habitat
Subtropical or tropical dry grassland.
Behaviour
In groups of 5-20 when not breeding. Inconspicuous; usually on the ground, concealed in grass; crosses open ground quickly and seldom perches in an elevated position. Forages for invertebrates and seeds.
Breeding: Monogamous. The nest is a cup of dry grass and rootlets. One to three eggs are laid after rain at any time of the year.
References
Hockey PAR, Dean WRJ & Ryan PG (eds) 2005. Robert's Birds of Southern Africa, 7th edition. John Voelcker Bird Book Fund, Cape Town, South Africa. ISBN 0620340533
Lepage D. 2008. Avibase. Search for "Pink-billed Lark" downloaded 17 June 2008.
External Links