m

Line 1:
Line 1:
 
+
 
+
 

;[[:Category:Cisticola|Cisticola]] fulvicapilla

 

;[[:Category:Cisticola|Cisticola]] fulvicapilla

−

[[Image:Piping_Cisticola.jpg|thumb|550px|right|Photo by louisdup <br/> Location:  Port Elizabeth South Africa]]

 
−

AKA '''Neddicky'''

 
 

==Identification==

 

==Identification==

−

Length 11 cm. Red cap and plain greyish back. Buff underparts, darker in tone on the breast. Short brown bill, feet and legs pinkish-brown. Light brown eye. The sexes are similar, but juvenile birds are yellower.

+

Length 11 cm. Red cap and plain greyish back. . Short brown bill, feet and legs pinkish-brown. Light brown eye. The sexes are similar, but juvenile birds are yellower.

 

==Distribution==

 

==Distribution==

 

Sub-Saharan [[Africa]]  

 

Sub-Saharan [[Africa]]  
---
Revision as of 17:46, 9 January 2009
Alternative name: Neddicky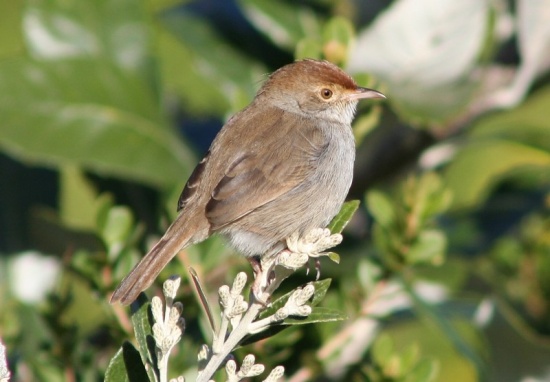 Cisticola fulvicapilla
Identification
Length 11 cm. Red cap and plain greyish back. Underparts are buff (northern South Africa and northwards) or grey (southern South Africa). Short brown bill, feet and legs pinkish-brown. Light brown eye. The sexes are similar, but juvenile birds are yellower.
Distribution
Sub-Saharan Africa
Taxonomy
Cisticola fulvicapilla has nine subspecies.
Habitat
Open woodland, including savanna.
Behaviour
Nest is ball shaped with a side entrance, made from grass and cobwebs. Breeding is September to March.
Diet includes small insects.
External Links