Line 1:
Line 1:
 
+
 

;Cisticola fulvicapilla

 

;Cisticola fulvicapilla

−

[[Image:Piping_Cisticola.jpg|thumb|550px|right|Photo by louisdup]]

+

[[Image:Piping_Cisticola.jpg|thumb|550px|right|Photo by louisdup Location:  Port Elizabeth South Africa

−

Location:  Port Elizabeth South Africa

+

 

 

==Identification==

 

==Identification==

 

AKA Neddicky

 

AKA Neddicky

 
+
 
 
−

The Piping Cisticola, Cisticola fulvicapillus, is a is a small passerine bird. In South Africa it is known as the Neddicky from the Afrikaans name for the species. The Piping Cisticola is a small, vocal, dull-coloured brown bird, 11 cm in length. Its tail is not as short as that of some other cisticola species. This bird has a reddish cap and a plain back. The underparts are buff, darker in tone on the breast. The brown bill is short and straight, and the feet and legs are pinkish-brown. The eye is light brown. The sexes are similar, but juvenile birds are yellower.

+
 
+

Africa

 
 
−

The southern form found in the western Cape Province has grey underparts and a grey-brown back. Although cisticolas can be very similar in plumage, this greyish subspecies is therefore quite distinctive.

 
−

 
−

 
−

==Distribution==

 
−

This cisticola is a resident breeder in much of Africa from Gabon, the Democratic Republic of Congo, Rwanda and Tanzania south to the Cape.

 
 

==Taxonomy==

 

==Taxonomy==

 

==Habitat==

 

==Habitat==

−

The Piping Cisticola is a very common bird of open woodland, including savannah with trees and open plantations of exotic species. It avoids densely wooded habitats.

+

woodland, including

 
 
 

==Behaviour==

 

==Behaviour==

−

The call of the Piping Cisticola is a monotonous, penetrating, repetitive weep weep weep. The alarm call is a loud clicking tictictictic, like a fingernail running across the teeth of a comb.

+

is ball shaped with a side entrancefrom grass cobwebs. is September to March.

−

The Piping Cisticola builds a ball-shaped nest with a side entrance from dry grass, cobwebs and felted plant down. The nest is placed low in a thorny shrub, or in thick grass. In South Africa, this bird breeds mainly from from September to March.

 
 
 
−

The Piping Cisticola It is usually seen in pairs or singly, flitting in a bush or the grass at the base of a tree as it forages for small insects.

+

small insects.

 
 
 

==External Links==

 

==External Links==

 

*[http://www.birdforum.net/pp_gallery/showgallery.php?mcats=all&what=allfields&si=neddicky View more images of Piping Cisticola in the gallery]

 

*[http://www.birdforum.net/pp_gallery/showgallery.php?mcats=all&what=allfields&si=neddicky View more images of Piping Cisticola in the gallery]

 

[[Category:Birds]]

 

[[Category:Birds]]
---
Revision as of 15:27, 1 October 2007
Cisticola fulvicapilla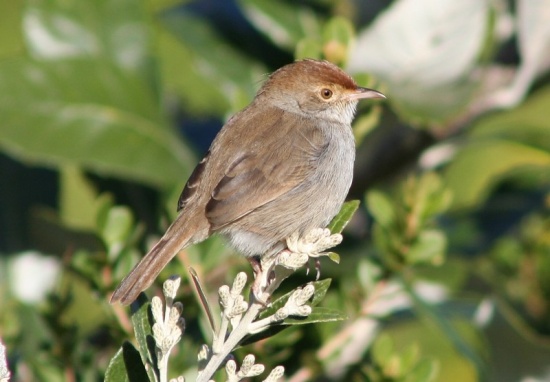 Identification
AKA Neddicky 11 cm. Red cap and plain back. Buff underparts, darker in tone on the breast. Short brown bill, feet and legs pinkish-brown. Light brown eye. The sexes are similar, but juvenile birds are yellower.
Distribution
Taxonomy
Habitat
Open woodland, including savanna
Behaviour
Nest is ball shaped with a side entrance, made from grass and cobwebs. Breeding is September to March.
Diet includes small insects.
External Links