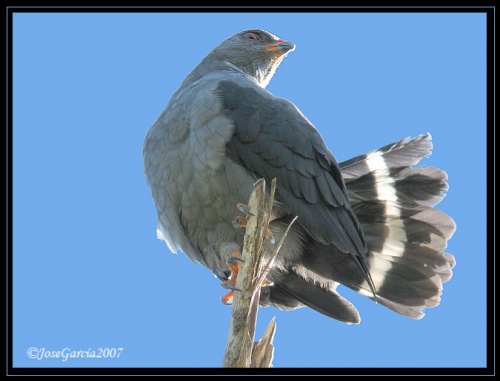 Cryptoleucopteryx plumbea
Identification
Dark slaty gray, tail black with one prominent white band
Distribution
Central and South America: found from eastern Panama to western Colombia, Ecuador and extreme north-western Peru.
Taxonomy
This is a monotypic species1. It was formerly placed in genus Leucopternis but recent research has shown that its closest relatives belong to the genus Buteogallus (Black Hawks).
Habitat
Subtropical or tropical moist lowland forests. It is threatened by habitat loss.
Behaviour
It is a species of forest interior which rarely soars.
Vocalisation
This is a vocally distinctive species which among other things perform male-female duets[2].
References
Clements, J. F., T. S. Schulenberg, M. J. Iliff, B.L. Sullivan, C. L. Wood, and D. Roberson. 2012. The eBird/Clements Checklist of Birds of the World. 6th ed., with updates to October 2012. Ithaca: Cornell Univ. Press. ISBN 978-0801445019. Spreadsheet available at http://www.birds.cornell.edu/clementschecklist/downloadable-clements-checklist
SACC proposal] for taxonomy including this species
Recommended Citation
External Links