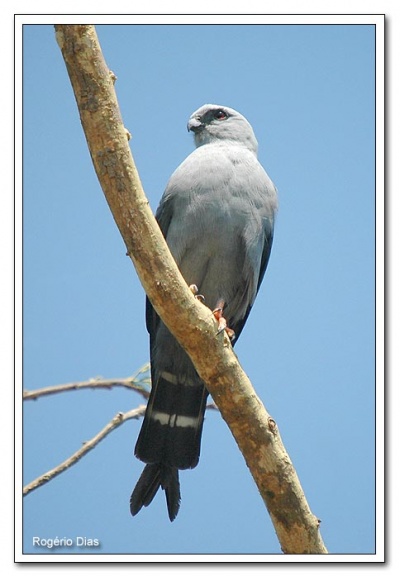 Ictinia plumbea
Identification
29–38 cm (11½-15 in); Long pointed wings
Slate grey
Pale head and underparts
Black twil with 2-3 white bands
Rufous inner primary webs
Red eyes
Orange legs

Sexes are similar
Jveniles: white-streaked grey upperparts; dark-streaked whitish underparts. They lack the rufous wing patch.
Distribution
Central and South America
Central America: breeds in eastern and southern Mexico from southern Tamaulipas southwards and from Guatemala to Panama.
South America: ranges from Colombia, Venezuela and Trinidad south to Bolivia, southern Brazil and northern Argentina.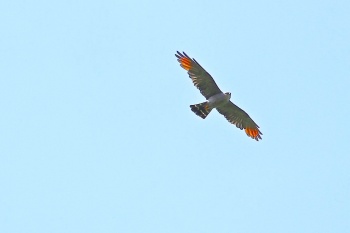 Resident in South America but Central American birds move south for the winter.
Taxonomy
This is a monotypic species[1].
Habitat
A variety of lowland forest types are used. They use more open areas on passage.
Behaviour
Breeding
They build a stick nest in a tree. The clutch consists of 1-2 blue-white eggs. The chicks are fed by both adults.
Diet
Their main diet consists of flying insects. These are supplemented occasionally with other small vertebrates and snails.
Vocalisation
Call: a whistled si-see-oo.
References
Clements, J. F., T. S. Schulenberg, M. J. Iliff, D. Roberson, T. A. Fredericks, B. L. Sullivan, and C. L. Wood. 2015. The eBird/Clements checklist of birds of the world: v2015, with updates to August 2015. Downloaded from http://www.birds.cornell.edu/clementschecklist/download/
Handbook of the Birds of the World Alive (retrieved March 2015)
Wikipedia
Recommended Citation
External Links