Scleroptila levaillantii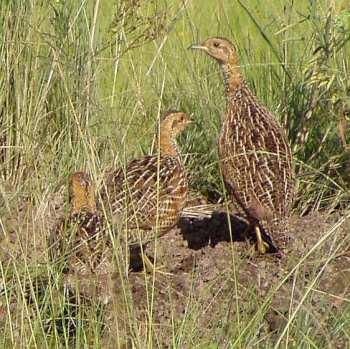 Francolinus levaillantii
Identification
Length 33-38 cm, mass 400-460 g; males are larger than females, but otherwise the sexes are similar. Upper parts are mostly brown with black blotches, buffy barring and whitish feather shafts. The throat is white with tawny edges, and a broad black-and-white collar which extends up the sides of the neck to below the eyes. Another black-and-white stripe extends from the mantle, up the back of the neck, to the sides of the crown. The remainder of the back of the neck and face are rufous. The belly is buff, streaked chestnut and the breast is almost solid chestnut. The large bill is decurved and black with a yellow base. The eyes are brown and the legs and feet are dull yellow. In flight, the wings are mostly rufous, more so than for the Grey-winged Francolin, Shelley's Francolin, and Orange River Francolin. The Grey-winged Francolin has a grey throat without tawny edges, is generally paler, and is less rufous below. Shelley's Francolin has a white throat bordered with black, and the lower breast and belly have heavy black markings. The Orange River Francolin lacks the broad black-and-white collar and the tawny edges to the white throat.
Distribution
The distribution is patchy in central, eastern and southern Africa.
Taxonomy
There are two subspecies (Hockey, Dean, Ryan and Maree, 2005. Robert's Birds of Southern Africa, 7th edition): S. l. levaillantii is the southern race from southern and eastern South Africa, western Swaziland, Malawi, and Zambia (described above).
Habitat
Grasslands and fynbos, preferring rank vegetation.
Behaviour
Localised and uncommon. In pairs or small coveys of up to ten birds. Flushes reluctantly, and will seldom flush more than once, preferring to remain immobile in thick cover. Food is mainly bulbs and insects.
External Links