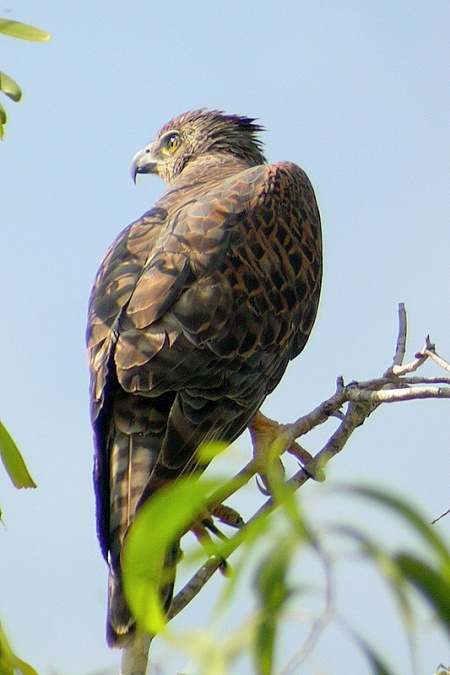 Erythrotriorchis radiatus
Identification
45-58cm and has a wingspan of 110-135cm. Reddish-brown with darker mottling. White head streaked with darker feathers. The wings show a series of black bands from below and it has a grey barred tail. It has long yellow legs with the upper legs covered by rusty red feathers.
Distribution
Northern and eastern Australia .
Taxonomy
This species is monotypic.[1]
Habitat
Savanna woodland near water.
Behaviour
Diet It eats a broad range of live prey, mostly birds.
Breeding It builds a nest of a large platform of dead sticks lined with twigs and green leaves, located in an exposed fork in the top of a living tree between 10 and 20m above the ground. The same nest sites are used each year.
Breeding is from April to November in the northern part of its range and may start breeding from August to November in the east. 1-2 eggs are laid and incubated for 39-42 days, and they hatch usually a few days apart. The young are fully fledged after seven to eight weeks but are not fully independent for another ten weeks.
References
Clements, JF. 2007. The Clements Checklist of Birds of the World. 6th ed., with updates to October 2007. Ithaca: Cornell Univ. Press. ISBN 978-0801445019
Recommended Citation
External Links