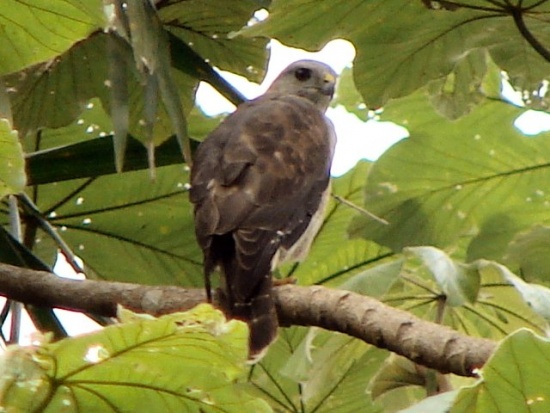 Buteo ridgwayi
Identification
Endangered, supposedly mainly due to habitat destruction (Raffaele et al, Birds of the West Indies).
36-41 cm. Brown-grey upperparts, grey barred underparts with red-brown wash, rufous-tinged thighs and a black-and-white barred tail. Male is greyer than the female. Yellow legs and base of bill. Immature birds have buffy white underparts with grey and brown streaks.
Distribution
Endemic to Hispaniola including some surrounding smaller islands where it seems to replace Broad-winged Hawk.
Taxonomy
This is a monotypic species
Habitat
Forests.
Behaviour
The diet includes small mammals, birds, lizards and snakes.
It builds nests in the crowns of tall trees. Eggs are laid March-April.
External Links