Alternative name: Indian Eagle-Owl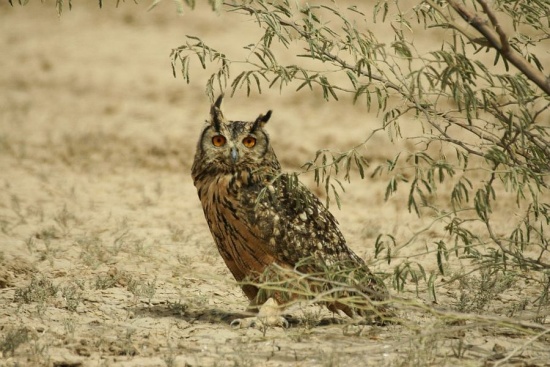 Bubo bengalensis
Identification
50–56 cm (19¾-22 in); a large eared owl
Orange eyes
Brown with black mottling on upperparts
Paler below with black streaks
Similar Species
Similar to Eurasian Eagle-Owl.
Distribution
Taxonomy
This is a monotypic species[1], which is sometimes considered a subspecies of Eurasian Eagle-Owl Bubo bubo.
Habitat
Rocky hills, wooded scrub, ravines, rocky semi-desert old mango orchards.
Behaviour
Diet
Their varied diet consists of small mammals, particularly rodents, but also birds, reptiles, frogs, crabs, fish and large invertebrates.
Breeding
The nest is a scrape on a rock ledge, cliff or on the ground. The clutch consists of 2-5 eggs which are incubated for about 35 days.
Vocalisation
Call: a deep, resonant, single-pitched double-noted hoot.
References
Clements, J. F., T. S. Schulenberg, M. J. Iliff, D. Roberson, T. A. Fredericks, B. L. Sullivan, and C. L. Wood. 2016. The eBird/Clements checklist of birds of the world: v2016, with updates to August 2016. Downloaded from http://www.birds.cornell.edu/clementschecklist/download/
Handbook of the Birds of the World Alive (retrieved August 2015)
The Website of Everything
Recommended Citation
External Links