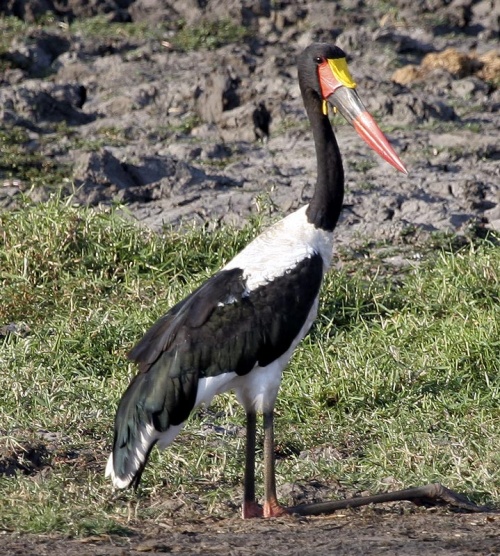 Ephippiorhynchus senegalensis
Identification
150 cm high. The male is larger and heavier than the female

Iridescent black head, neck, back, wings, and tail
White body and primaries
Red bill

Very large
Black band
Yellow frontal shield (the "saddle")

Black legs and feet
Pink "knees"

Sexes similar
Female has a yellow iris
Male iris is brown, small yellow wattles at base of bill
Juveniles: brownish-grey plumage
Distribution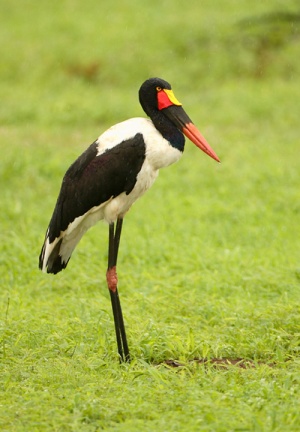 Sub-Saharan Africa
Western Africa: Senegambia, Senegal, The Gambia, Guinea-Bissau, Guinea, Mali, Sierra Leone, Liberia, Ivory Coast, Burkina Faso, Ghana, Togo, Benin, Nigeria, Niger, Chad, Cameroon, Central African Republic, Equatorial Guinea, Gabon, DRC and Angola
Eastern Africa: Sudan, Eritrea, Ethiopia, Djibouti, Somalia, Kenya, Uganda, Rwanda, Burundi, Tanzania, Zambia, Mozambique and Malawi
Southern Africa: Namibia, Botswana, Zimbabwe, South Africa, KwaZulu-Natal and Swaziland
Taxonomy
This is a monotypic species[1].
Habitat
Dams and large river courses, flood plains, wetlands and swamps.
Behaviour
Breeding
It builds a large, deep stick nest in a tree. The 1 or 2 white eggs are incubated for 30-35 days; the chicks fledge 70 - 100 days later.
Diet
The diet includes fish, frogs and crabs, but also on young birds, and other land vertebrates.
Gallery
Click on photo for larger image
References
Clements, J. F., T. S. Schulenberg, M. J. Iliff, B.L. Sullivan, C. L. Wood, and D. Roberson. 2013. The eBird/Clements checklist of birds of the world: Version 6.8., with updates to August 2013. Downloaded from http://www.birds.cornell.edu/clementschecklist/download/
Avibase
Wikipedia
Recommended Citation
External Links