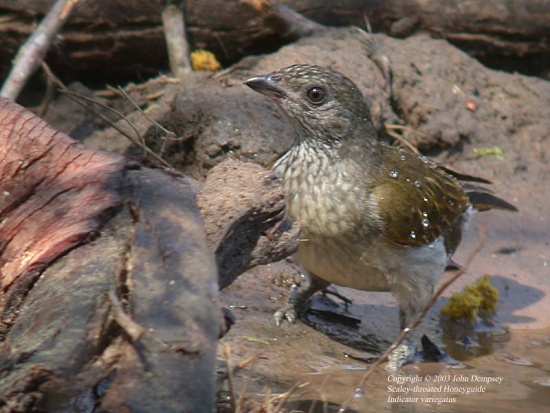 Indicator variegatus
Identification
Length 18-19 cm, mass 36-56 g. A large honeyguide. The throat is yellowish white with fine, dark streaks and the breast is mottled. The forecrown is dark with whitish flecks.
Distribution
Africa: Ethiopia to Angola, Zambia and south-eastern South Africa.
Taxonomy
Monotypic.
Habitat
Forest and dense woodland. Possibly favours forest-woodland mosaic.
Behaviour
Breeding
Territorial and brood parasitic. Hosts nest in holes in trees and include Golden-tailed Woodpecker, Knysna Woodpecker, Cardinal Woodpecker, Olive Woodpecker, Black-collared Barbet, Whyte's Barbet, Yellow-rumped Tinkerbird.
External Links