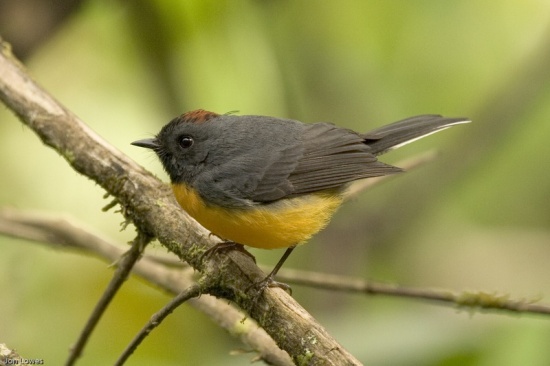 Myioborus miniatus
Identification
Slate-gray upperparts, black face and throat. The breast and belly are red in M.m minatus or yellow-orange in M.m. comptus. Has chestnut-brown crown. The tail is slate-gray with white edges and the wings are black. Thin, pointed bill.
Similar species
In Mexico/the US, commonly confused with Painted Redstart which has a white arc under the eye and large white wing patches.
Distribution
Northern Mexico south to Central America and South America to Bolivia and Brazil.
Taxonomy
Twelve subspecies are recognized:
M. m. miniatus
M. m. molochinus
M. m. intermedius
M. m. hellmayri
M. m. connectens
M. m. comptus
M. m. aurantiacus
M. m. ballux
M. m. sanctaemartae
M. m. pallidiventris
M. m. subsimilis
M. m. verticalis
Habitat
Wooded pine-oak canyons, other forests, woodlands and clearings.
Behaviour
The diet includes insects caught on the wing.
Breeding: nests in embankments covered by foliage
References
Clements, J. F., T. S. Schulenberg, M. J. Iliff, D. Roberson, T. A. Fredericks, B. L. Sullivan, and C. L. Wood. 2018. The eBird/Clements checklist of birds of the world: v2018. Downloaded from http://www.birds.cornell.edu/clementschecklist/download/
Recommended Citation
External Links