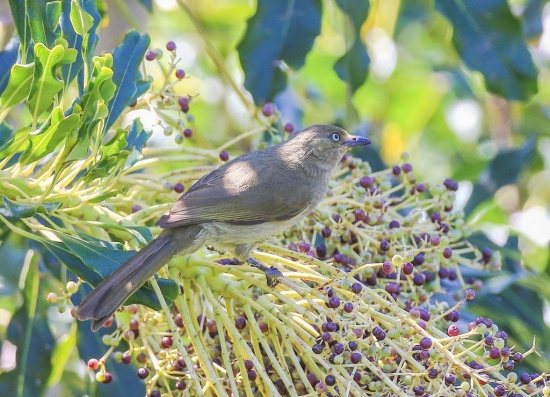 Andropadus importunus
Identification
Length 15–17·5 cm (6-6¾ in)
Adult
Dull grey olive-green plumage
Paler underparts
White iris

Sexes are similar

Juvenile
Like adult but brighter yellow below, olive-green wash across breast, richer olive-green above, and have dark eyes.
Similar Species
Northern and eastern races are very yellow below and could be confused with Yellow-bellied Greenbul which differs in its dark red, not white iris.
Distribution
Eastern Africa from Ethiopia to southern South Africa.
Taxonomy
Other former members of this genus have been moved to other genera leaving this species the sole member of Andropadus.
Subspecies
This is a polytypic species with four subspecies:[1]
North-eastern, south-eastern and southern South Africa
Gray underparts and dull olive-green back.
Habitat
Thick coastal bush, evergreen forest and dry shrubland and wooded gardens.
Behaviour
Action
They tend to sit still high in the canopy blending into the vegetation.
Diet
The diet consists mostly of berries and other fruit, with the addition of insects and small snails.
Breeding
Courtship display includes head bobbing, raised head and nape feathers and wing quivering by both partners. Monogamous. Nest built by female is rather flimsy, thin-walled, shallow cup made of dry grass, twigs, rootlets, lichen and lined with finer plant fibers and sometimes hair. Clutch is 1-3 eggs, usually two; incubation by female.
Vocalisation
This species sings loudly and persistently from high in the canopy but can be maddeningly difficult to see. '*Call' a penetrating rising "willie." '*Song' given throughout the year is is a distinctive piercing "weeeweee" followed by a liquid chortle.
Movements
Sedentary. Flocks may wander locally in search of food.
Gallery
Click on photo for larger image
References
Clements, J. F., T. S. Schulenberg, M. J. Iliff, D. Roberson, T. A. Fredericks, B. L. Sullivan, and C. L. Wood. 2017. The eBird/Clements checklist of birds of the world: v2017, with updates to August 2017. Downloaded from http://www.birds.cornell.edu/clementschecklist/download/
Fishpool, L. & Tobias, J. (2018). Sombre Greenbul (Andropadus importunus). In: del Hoyo, J., Elliott, A., Sargatal, J., Christie, D.A. & de Juana, E. (eds.). Handbook of the Birds of the World Alive. Lynx Edicions, Barcelona. (retrieved from https://www.hbw.com/node/57973 on 25 June 2018).
Hockey, PAR, WRJ Dean, and PG Ryan, eds. 2005. Roberts' Birds of Southern Africa. 7th ed. Cape Town: John Voelcker Bird Book Fund. ISBN 978-0620340533
Sinclair, I., Hockey, P.A.R., and Arlott, N. (2005). The Larger Illustrated Guide to Birds of Southern Africa. Struik, Cape Town. ISBN 978-1775840992
Wikipedia
Recommended Citation
External Links