m

Line 1:
Line 1:
 

;Myrmecocichla formicivora

 

;Myrmecocichla formicivora

−

[[Image:Southern_Anteater_Chat.jpg|thumb|500px|right|Photo by leon]]

+

[[Image:Southern_Anteater_Chat.jpg|thumb|500px|right|Photo by leon]]

 

Ant-eating Chat

 

Ant-eating Chat

 
 
---
Revision as of 14:18, 19 November 2007
Myrmecocichla formicivora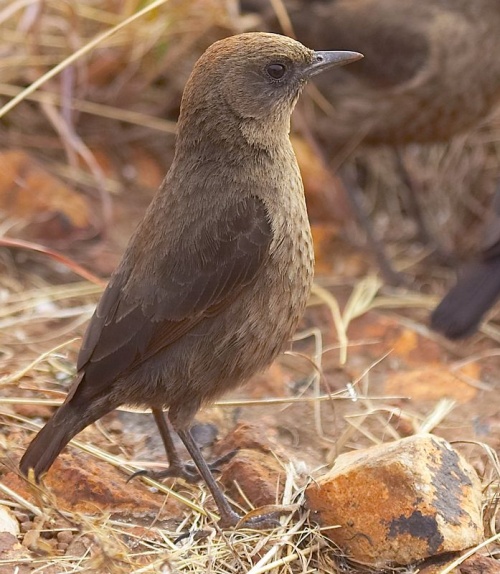 Ant-eating Chat
Southern Anteater-Chat
Identification
Length 18 cm, mass 45-50 g. A dark grassland chat with a distinctive upright stance. It has relatively long legs which accentuate a short tail. Adult male: Very dark brown with a small white carpal patch that is often not visible when perched. In flight the wings show white windows. The bill, legs and feet are black and the eyes are dark brown. Adult female: Similar to the male but has without the white carpal patches.
Distribution
Southern Africa: Namibia, Botswana and South Africa; limited distribution in Lesotho and western Swaziland.
Taxonomy
There are three subspecies: M. f. formicivora from southern and central South Africa; M. f. minor from Namibia, Botswana and northern and north-western South Africa is smaller and darker below than the nominate race; M. f. orestes from the grasslands of Free State, KwaZulu-Natal, Mpumalanga, Lesotho and western Swaziland is paler than the nominate race and has greyer upperparts.
Habitat
Grasslands, shrublands, and open savanna.
Behaviour
Solitary, in pairs, or in small groups. Flies with a rapid wingbeat; sometimes hovers. Forages on the ground for invertebrates (mainly ants and termites); some fruit is also eaten. Roosts in the nest burrow.
Breeding: Nests at the end of a burrow (35-150 cm long) which is excavated by both male and female. Two to seven eggs are laid in summer (August to March). Nestlings are fed by both parents. Parasitised by the Greater Honeyguide.
References
Hockey PAR, Dean WRJ & Ryan PG (eds) 2005. Robert's Birds of Southern Africa, 7th edition. Cape Town: John Voelcker Bird Book Fund. ISBN 0620340533
External Links