Geronticus calvus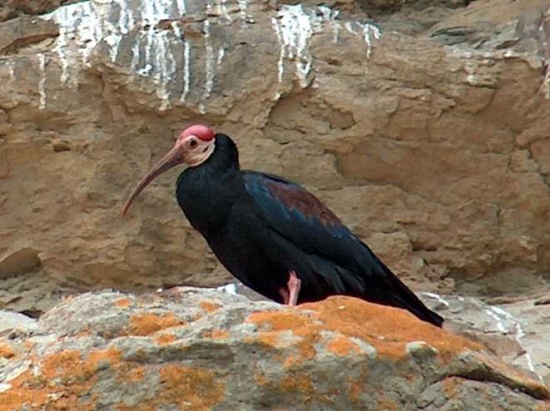 Identification
Bare, bright red crown and white face and throat. Feathering dark green with iridescent green, bronze and violet.
Distribution
Eastern South Africa, Lesotho and western Swaziland.
Taxonomy
Geronticus calvus is monotypic[1].
There is one other species in this genus; the Northern Bald Ibis (Geronticus eremita) of south-western Asia, north Africa and southern Europe.
Habitat
High-altitude (1200-3000 m), moist grassland and cultivated fields with crop residues. Breeds and roosts in colonies on cliffs.
Status
Classified as Vulnerable in the 2007 IUCN Red List due to habitat loss (BirdLife International, 2007).
Behaviour
Gregarious. Typically roosts in groups of 40-50, and forages in smaller groups. Forages, mainly for insects, while walking.
References
Clements, JF. 2008. The Clements Checklist of Birds of the World. 6th ed., with updates to December 2008. Ithaca: Cornell Univ. Press. ISBN 978-0801445019.
BirdLife International (2007) Species factsheet: Geronticus calvus. Downloaded from http://www.birdlife.org on 13/11/2007.
Hockey PAR, Dean WRJ & Ryan PG (eds) 2005. Robert's Birds of Southern Africa, 7th edition. Cape Town: John Voelcker Bird Book Fund. ISBN 0620340533
Recommended Citation
External Links