Bugeranus carunculatus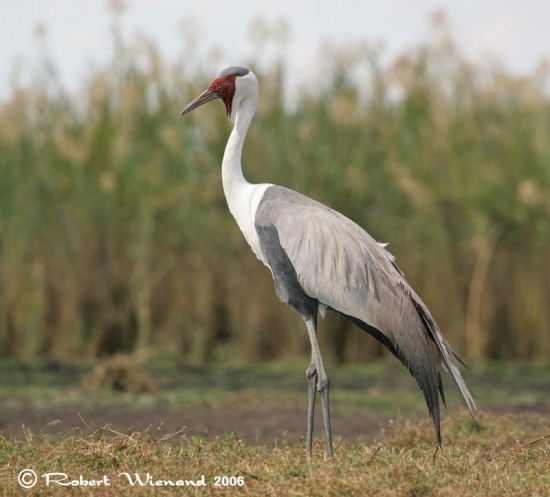 Identification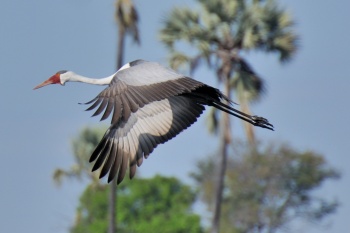 175 cm (69 in)
Ash grey back and wings
Dark slaty gray crown
Rest of head, throat and breast white
White feathered wattles
Red skin in front of the eye, base of beak and wattle tips
Long bill
Black legs and toes

Sexes identical (males inclined to be slightly larger)
Distribution
Patchily distributed north-eastern and southern Africa
Western Africa: DRC and Angola
Eastern Africa: Eritrea, Ethiopia, Tanzania, Zambia, Mozambique and Malawi
Southern Africa: Namibia, Botswana, Zimbabwe, South Africa, KwaZulu-Natal and Lesotho
Seems to be rather scarce in most of the area.
Taxonomy
This is a monotypic species[1].
Grus vs. Bugeranus
Sibley & Monroe (1996) place the Wattled Crane (carunculatus) in the genus Grus. However, Howard & Moore (2003) and Clements (2007) separate it in the monotypic genus Bugeranus, and the Opus follows in this consensus.
Habitat
Shallow wetlands, freshwater marshes and adjoining grassland.
Behaviour
Diet
The diet includes tubers, bulbs and corms of aquatic vegetation; insects, seeds, leaves, acorns and grain.
Breeding
They breed according to the rains and may build more than one nest - up to four. They will use one nest one year and another the next. The clutch has only 1 egg.
Description including photos of courtship is found in a Birdforum thread[3].
References
Clements, J. F., T. S. Schulenberg, M. J. Iliff, D. Roberson, T. A. Fredericks, B. L. Sullivan, and C. L. Wood. 2017. The eBird/Clements checklist of birds of the world: v2017, with updates to August 2017. Downloaded from http://www.birds.cornell.edu/clementschecklist/download/
Avibase
Post in Birdforum thread with description of courtship behavior
Wikipedia
Recommended Citation
External Links