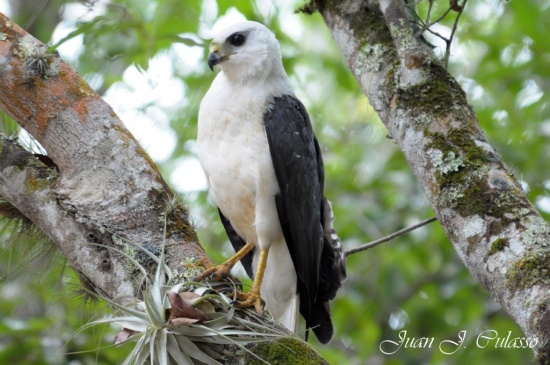 Buteogallus lacernulatus
Amadonastur lacernulatus
Identification
43-48 cm. White head, grey hindcrown, neck and upper back, all-white underparts, black back and wings, some faint whitish mottling on tertials, broad, rounded wings. short white tail, with black base and thin apical band, yellow iris, cere and legs. Immature has dark streaks on crown and nape, rufous-brown tips to wing-coverts and scapulars.
Distribution
Taxonomy
This is a monotypic species1. Formerly placed in genus Leucopternis.
Habitat
Moist lowland forests, montanes and plantations.
Behaviour
The diet includes invertebrate prey such as spiders and insects, birds, reptiles, amphibians and mammals.
References
Gill, F and D Donsker (Eds). 2014. IOC World Bird Names (version 4.3). Available at http://www.worldbirdnames.org/.
Clements, J. F., T. S. Schulenberg, M. J. Iliff, D. Roberson, T. A. Fredericks, B. L. Sullivan, and C. L. Wood. 2014. The eBird/Clements checklist of birds of the world: Version 6.9., with updates to August 2014. Downloaded from http://www.birds.cornell.edu/clementschecklist/download/
SACC proposal] for taxonomy including this species
Recommended Citation
External Links