Line 1:
Line 1:
−

 

+

;Eremomelaicteropygialis

−

;Eremomela icteropygialis

 
 

[[Image:Yellow-bellied_Eremomela.jpg|thumb|550px|right|Photo by balticbird]]

 

[[Image:Yellow-bellied_Eremomela.jpg|thumb|550px|right|Photo by balticbird]]

 
 
Line 12:
Line 11:
 
 
 

==Taxonomy==

 

==Taxonomy==

 
+
 
+
 
+
 
+
 
+
 
+
 
+
 
+
 
+
 
+
 
 
 

==Habitat==

 

==Habitat==

Line 19:
Line 28:
 
 
 

The diet includes insects and other small invertebrates.

 

The diet includes insects and other small invertebrates.

−

 

+
−

 

+
 

==External Links==

 

==External Links==

 

{{GSearch|Eremomela+icteropygialis}}

 

{{GSearch|Eremomela+icteropygialis}}

 
 
 
 
−

[[Category:Birds]][[category:incomplete]]

+

[[Category:Birds]] [[category:incomplete]]
---
Revision as of 10:19, 23 September 2008
Eremomela icteropygialis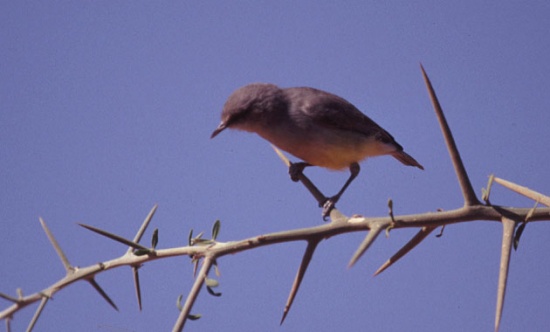 Identification
10 cm. Grey upperparts, becoming darker and more olive on the wings and tail, thin pale grey supercilium, blackish stripe through the eye, grey breast, lemon yellow belly, black bill. The subspecies vary in the extent and intensity of the yellow on the belly, and birds in western southern Africa a have whitish throat and breast.
The sexes are similar, but the juvenile has duller yellow underparts than the adult.
Distribution
Africa south of the Sahara.
Taxonomy
There are nien subspecies:1
E. i. alexanderi
E. i. griseoflava
E. i. abdominalis
E. i. polioxantha
E. i. puellula
E. i. icteropygialis
E. i. helenorae
E. i. perimacha
E. i. saturatior
Habitat
Open woodland, savanna, and dry scrub.
Behaviour
It builds a cup nest in the branches of a tree or shrub, and 2-4 white eggs are laid. It is monogamous, pairing for life.
The diet includes insects and other small invertebrates.
References
Clements JF. 2007. The Clements Checklist of Birds of the World. 6th ed., with updates to October 2008. Cornell University Press. ISBN 9780801445019
External Links