Alternative names: Yellow-bellied Fairy-Fantail; Fairy-fantail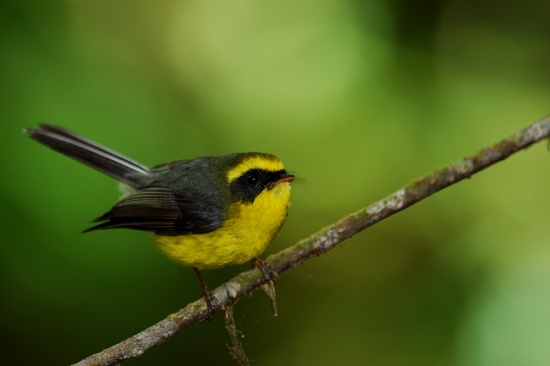 Chelidorhynx hypoxanthus
Rhipidura hypoxantha
Identification
11.5–12.5 cm

Yellow forehead, brow, and underparts
Olive-grey upperparts
Black mask
Long, white-tipped gray tail

Female: the mask is dark olive
Distribution
Asia: found in China, Tibet, Nepal, India, eastern and western Himalayas, Bangladesh, Bhutan
Southeast Asia: Indochina, Myanmar, Vietnam and Thailand
Taxonomy
This is a monotypic species.
It was formerly placed in the genus Rhipidura but recent research showed it to be a Fairy Flycatcher and not a Fantail.
Habitat
Moist evergreen broad leaf forest and jungle.
Behaviour
Diet
The diet includes small flying insects which are flushed by fluttering in amongst the branches.
Breeding
It builds a compact deep cup made from moss, which is attached to the upperside of a branch. The clutch consists of 3 cream to pinkish-cream eggs with tiny dark reddish speckles.
References
Clements, J. F., T. S. Schulenberg, M. J. Iliff, D. Roberson, T. A. Fredericks, B. L. Sullivan, and C. L. Wood. 2014. The eBird/Clements checklist of birds of the world: Version 6.9., with updates to August 2014. Downloaded from http://www.birds.cornell.edu/clementschecklist/download/
Thread in the taxonomy forum discussing this species.
Avibase
Handbook of the Birds of the World Alive (retrieved November 2014)
Recommended Citation
External Links