Line 1:
Line 1:
−

{{stub}}

+

 

 

[[Category:Anas]]

 

[[Category:Anas]]

 

;[[:Category:Anas|Anas]] undulata

 

;[[:Category:Anas|Anas]] undulata

 

[[Image:Yellow-billed_Duck.jpg|thumb|550px|right|Photo by Mybs<br />Photo taken: Helderberg Nature Reserve.]]

 

[[Image:Yellow-billed_Duck.jpg|thumb|550px|right|Photo by Mybs<br />Photo taken: Helderberg Nature Reserve.]]

−

==Description==

+

 

 

==Identification==

 

==Identification==

−

==Distribution & Taxonomy==

+
 
+

 

 
+

 

 
+

==Distribution

 
+
 
+

 

 
+

Taxonomy==

 
+

 

 

==Habitat==

 

==Habitat==

 
+
 
+
 

==Behaviour==

 

==Behaviour==

 
+
 
+
 
+
 
+
 

==External Links==

 

==External Links==

 

{{GSearch|Anas+undulata}}

 

{{GSearch|Anas+undulata}}

 
 
−

[[Category:Birds]]

+

[[Category:Birds]]
---
Revision as of 14:04, 23 September 2008
Anas undulata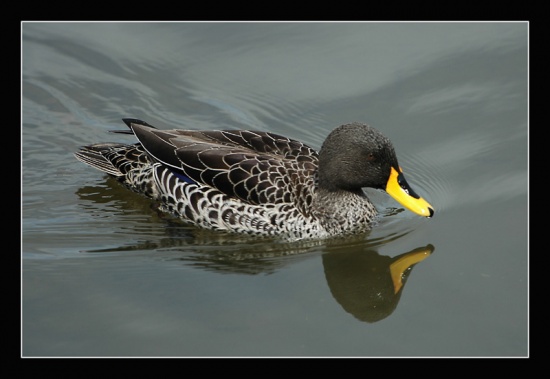 Identification
Grey, darker head, bright yellow bill, wings are white below with white-bordered green speculum. Sexes are similar, and juveniles are slightly duller than adults. The north-eastern race is darker and has a brighter bill and blue speculum.
Distribution
Southern and eastern Africa.
Taxonomy
Habitat
Freshwater in fairly open country.
Behaviour
The diet includes plant food for which it dabbles mainly in the evening or at night.
It nests on the ground in dense vegetation near water; 6-12 eggs are laid.
External Links