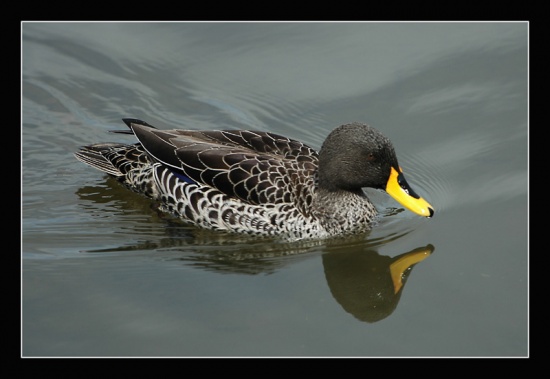 Anas undulata
Identification
Grey body
Darker head
Bright yellow bill
Wings: white below with white-bordered green speculum (blue in the northern race)

Sexes similar. Juveniles slightly duller than adults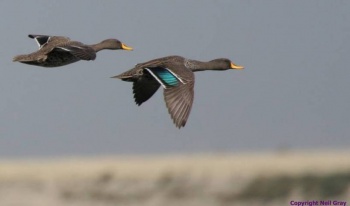 Distribution
Africa
Western Africa: Mali, Cameroon, Democratic Republic of Congo and Angola
Eastern Africa: Sudan, Ethiopia, Djibouti, Kenya, Uganda, Rwanda, Burundi, Tanzania, Zambia, Mozambique and Malawi
Southern Africa: Namibia, Botswana, Zimbabwe, South Africa, KwaZulu-Natal, Lesotho and Swaziland.
Taxonomy
Anas undulata has two subspecies:[1]
Habitat
Freshwater in fairly open country.
Behaviour
Diet
The diet includes plant food for which it dabbles mainly in the evening or at night.
Breeding
It nests on the ground in dense vegetation near water. The clutch consists of 6-12 eggs.
References
Clements, J. F., T. S. Schulenberg, M. J. Iliff, D. Roberson, T. A. Fredericks, B. L. Sullivan, and C. L. Wood. 2014. The eBird/Clements checklist of birds of the world: Version 6.9., with updates to August 2014. Downloaded from http://www.birds.cornell.edu/clementschecklist/download/
Avibase
Wikipedia
Recommended Citation
External Links