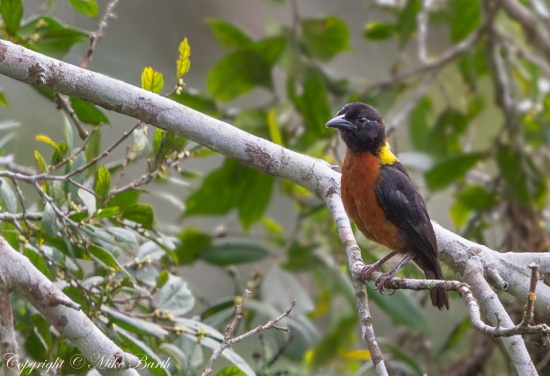 Ploceus tricolor
Identification
17cm (6¾ in).
Glossy black head, upperparts and tail
Narrow golden-yellow collar extending from side of neck across upper mantle
Black chin and throat
Rich chestnut-brown breast, flanks and belly
Black thighs and undertail-coverts
Dark red or brown eye
Black bill
Females are duller with dull chestnut-brown breast and belly.
Juveniles have a dull forehead, chestnut-brown crown, nape and mantle, glossy black back, rump and wings and are sooty grey below wahsed with buff on chin, throat and breast.
Distribution
Western and central Africa from Sierra Leone east to South Sudan.
Widespread. Uncommon in western part of its range, locally common in central forested regions. interscapularis formerly occured in Kakamega in southwestern Kenya but no records since more than 30 years.
Taxonomy
Subspecies
Two subspecies recognized[1]:
Habitat
Found in lowland forests along rivers or near swamps. Also in old plantations and secondary forest.
Tends to avoid human habitation. Up to 1300m in DRC, lower elsewhere.
Behaviour
Diet
Feeds on insects. Takes also small fruits and berries.
Forages mainly in middle level or canopy of forest interior, usually above 25m. Often in groups of 4 to 6 birds, joins also mixed-species flocks.
Breeding
Breeding season differs through range. A monogamous species, breeding in colonies with up to 50 nests, sometimes more. The nest is retort-shaped with a short, wide entrance tunnel, made of rootlets, vine tendrils and fibres. It's suspended 20 to 50m above the ground at the end of a thin branch. Lays 2 eggs.
Parasitized by Diederik Cuckoo and African Harrier Hawk is a major nest predator.
Movements
Presumably a resident with some local movements.
References
Clements, J. F., T. S. Schulenberg, M. J. Iliff, D. Roberson, T. A. Fredericks, B. L. Sullivan, and C. L. Wood. 2016. The eBird/Clements checklist of birds of the world: v2016, with updates to August 2016. Downloaded from http://www.birds.cornell.edu/clementschecklist/download/
Del Hoyo, J, A Elliott, and D Christie, eds. 2010. Handbook of the Birds of the World. Volume 15: Weavers to New World Warblers. Barcelona: Lynx Edicions. ISBN 978-8496553682
Recommended Citation
External Links