Alternative Names: Australian Wood Duck, Maned Goose
Chenonetta jubata
Identification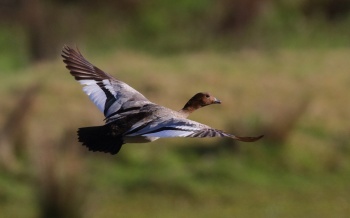 44–56 cm (17½-22 in)

Male
Black "mane" at the back of the head (not always erect)

Female: white stripes above and below the eye and mottled underparts
Distribution
Australia (except driest regions); visitor to Tasmania.
Taxonomy
This is a monotypic species[1].
Habitat
Lightly wooded swamps and marshes.
Behaviour
Breeding
They nest in a tree hole. The clutch consists of 8-12 eggs.
Diet
They feed mostly by grazing, but also dabble and up-ends in shallow water, feeding on aquatic plants.
Vocalisation
Male gives long, drawn-out mewing call that is both mournful and distinctive, and the female gives a similar vocalization to encourage her partner to mate. Flocks chatter when feeding.
Movements
Mostly sedentary.
References
Clements, J. F., T. S. Schulenberg, M. J. Iliff, S. M. Billerman, T. A. Fredericks, B. L. Sullivan, and C. L. Wood. 2019. The eBird/Clements Checklist of Birds of the World: v2019. Downloaded from http://www.birds.cornell.edu/clementschecklist/download/
Carboneras, C. & Kirwan, G.M. (2019). Maned Duck (Chenonetta jubata). In: del Hoyo, J., Elliott, A., Sargatal, J., Christie, D.A. & de Juana, E. (eds.). Handbook of the Birds of the World Alive. Lynx Edicions, Barcelona. (retrieved from https://www.hbw.com/node/52856 on 28 December 2019).
Frost, P.G.H. 2013 [updated 2017]. Australian wood duck. In Miskelly, C.M. (ed.) New Zealand Birds Online. www.nzbirdsonline.org.nz
Marchant, S.J.; Higgins, P. (eds) 1990. Handbook of Australian, New Zealand and Antarctic birds. Vol. 1, ratites to ducks. Oxford University Press, Melbourne, Australia.
Recommended Citation
External Links