| | |
| --- | --- |
| Looking for something? Search for it here. | |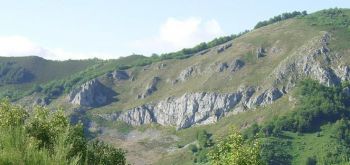 Notable Species
Birds found in this area include a good range of breeding raptors such as Griffon Vulture and Egyptian Vulture, Golden Eagle, Bonelli's Eagle with Booted Eagle on passage. Wallcreeper and Iberian Chiffchaff are among the passerines.
History and Use
The Picos de Europa is a limestone massif close to the northern coast of Spain. Large parts of the Picos de Europa range are now under protection as national parks or national reserves.
Access and Facilities
The Picos de Europa range is situated in north-central Spain. There is an information centre at Oviedo and the park has resident wardens, nature trails and refuges.

Getting Started
If you're looking for a particular bird, place, or anything else related to the birding world, try searching for it using the search box at the top, or to the left, of this page. You can also get an overview of all the birds, bird song, locations or other wildlife by using the tabs above.
Statistics
Articles: 12,738
Files: 23,082