| | |
| --- | --- |
| Looking for something? Search for it here. | |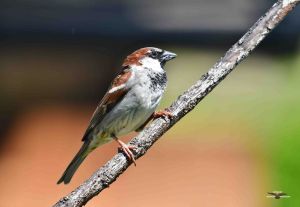 Distribution
Worldwide. Deliberately introduced by man on several continents, this bird is an unwelcome addition to the local ecologies, and another glaring example of the folly of the introduction of an alien species.
Breeding
Nests of grass, wool, feathers and other soft materials are made in holes in buildings or other structures, though house sparrows will also breed in thick ivy and natural structures. The clutch consists of 4-5 glossy pale blue eggs. The young fledge after about 3 weeks.

Getting Started
If you're looking for a particular bird, place, or anything else related to the birding world, try searching for it using the search box at the top, or to the left, of this page. You can also get an overview of all the birds, bird song, locations or other wildlife by using the tabs above.
Statistics
Articles: 12,707
Files: 22,954