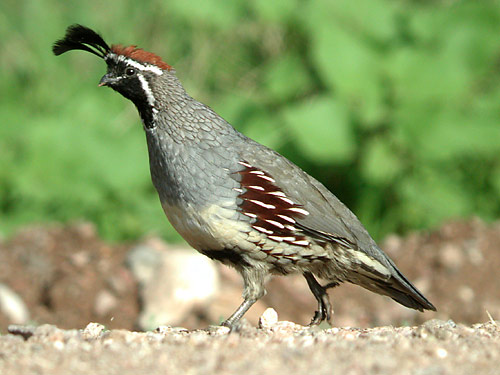 Callipepla gambelii
Identification
10-11 1/2" (25-29 cm)
A stocky, mainly gray quail with a curved black head plume.
Male has bold black face and throat, chestnut crown, rusty sides with diagonal stripes, and unscaled buff-white belly with black patch in center.
Distribution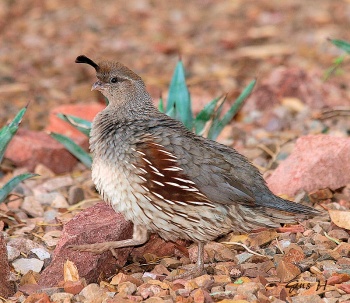 Resident in south-western deserts from California east to Texas. Introduced in Idaho and western New Mexico. Introduced on some of the Hawaiian Islands, where it is usually difficult to find among the more numerous California Quail.
Taxonomy
Subspecies
There are 5 subspecies[1]:
South-eastern Arizona and south-western New Mexico to north-western Mexico (to southern Sonora and northwestern Sinaloa)
Western Mexico (southern Sonora adjacent to Sinaloa border)
Habitat
Desert thickets; arid country.
Behaviour
These desert-dwelling quail are attracted to water and gather in large numbers, often representing several coveys, to drink at stock tanks maintained for cattle.
Breeding
The 10-20 buff-colored eggs, spotted with brown, are laid in a depression lined with grass and twigs at base of tall shrub or mesquite.
Vocalisation
A ringing puk-kwaw-cah, with second syllable highest in pitch.
The ringing call of the male, heard even in the heat of day, is one of the characteristic sounds of the desert Southwest.
References
Clements, J. F., T. S. Schulenberg, M. J. Iliff, S. M. Billerman, T. A. Fredericks, J. A. Gerbracht, D. Lepage, B. L. Sullivan, and C. L. Wood. 2021. The eBird/Clements checklist of Birds of the World: v2021. Downloaded from https://www.birds.cornell.edu/clementschecklist/download/
Gill, F, D Donsker, and P Rasmussen (Eds). 2021. IOC World Bird List (v 11.2). Doi 10.14344/IOC.ML.11.2. http://www.worldbirdnames.org/
Recommended Citation
External Links