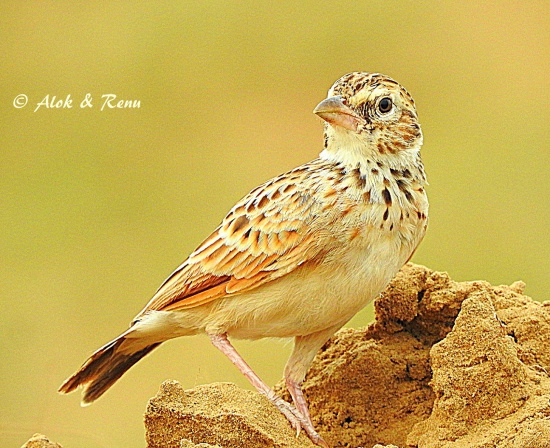 Mirafra erythroptera
Identification
13·5–15 cm (5¼-6 in)
Whitish or pale buff supercilium and post-auricular border
Crown and upperparts heavily streaked
Pale underparts with spotted breast.
Pale centres to most wing-coverts, tertials and central tail feathers
Brown primary coverts
Distribution
Asia: found in India and south-eastern Pakistan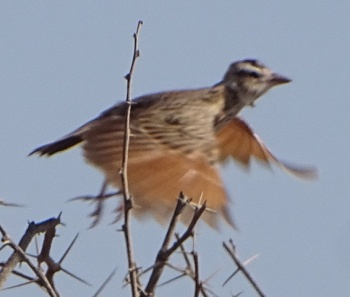 Taxonomy
This is a monotypic species[1].
Habitat
Dry lowland areas, particularly with scrub and rocks.
Behaviour
Diet
Their diet likely consists of seeds and invertebrates, but there is little other information.
Breeding
Poorly studied. They are believed to produce at least two broods each year.
Vocalisation
Listen in an external program Listen in an external program
Recording © by Alok Tewari
Sultanpur Flats, Gurgaon Rural, Haryana, India, 23 August 2016.
Calls by one individual after Sunset, giving a variety of call.
References
Clements, J. F., T. S. Schulenberg, M. J. Iliff, D. Roberson, T. A. Fredericks, B. L. Sullivan, and C. L. Wood. 2018. The eBird/Clements checklist of birds of the world: v2018. Downloaded from http://www.birds.cornell.edu/clementschecklist/download/
Handbook of the Birds of the World Alive (retrieved May 2019)
Recommended Citation
External Links