Alternative names: Spotted Prinia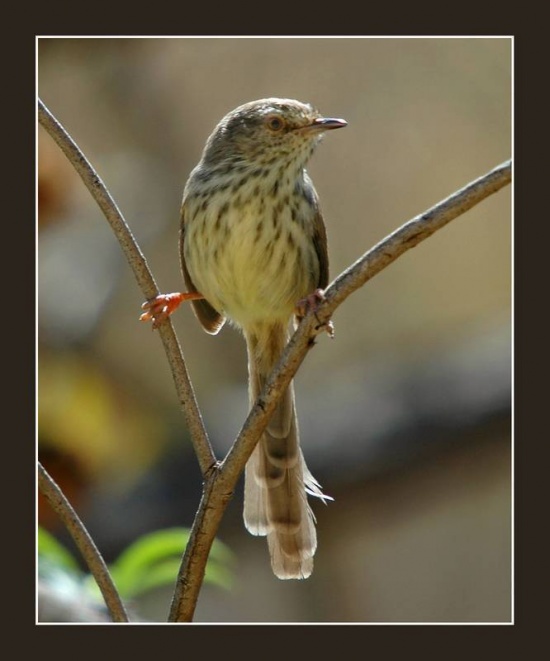 Prinia maculosa
Identification
13-15 cm long (mass 10 g),
Round wings, long tail, short, straight black bill. White eyebrow, brown upperparts, white throat and lower face, yellow-white streaked underparts, pink-brown legs and feet, dark brown eye.
Sexes identical. Juveniles more yellow below and less streaked.
Distribution
Taxonomy
Drakensberg Prinia was formerly considered a subspecies of this species.
Subspecies
There are 3 subspecies[1]:
P. m. psammophila: is paler above than nominate
South-western Namibia and northwestern South Africa (western Northern Cape)
P. m. exultans: is more heavily streaked than nominate
Habitat
Shrublands, coastal and mountain scrub, rank grass, weedy areas, thickets and gardens.
Behaviour
It builds a thin-walled oval nest with a side entrance from green grass.
Diet includes insects.
References
Clements, J. F., T. S. Schulenberg, M. J. Iliff, D. Roberson, T. A. Fredericks, B. L. Sullivan, and C. L. Wood. 2016. The eBird/Clements checklist of birds of the world: v2016, with updates to August 2016. Downloaded from http://www.birds.cornell.edu/clementschecklist/download/
Hockey, PAR, WRJ Dean, and PG Ryan, eds. 2005. Roberts' Birds of Southern Africa. 7th ed. Cape Town: John Voelcker Bird Book Fund. ISBN 978-0620340533
Recommended Citation
External Links