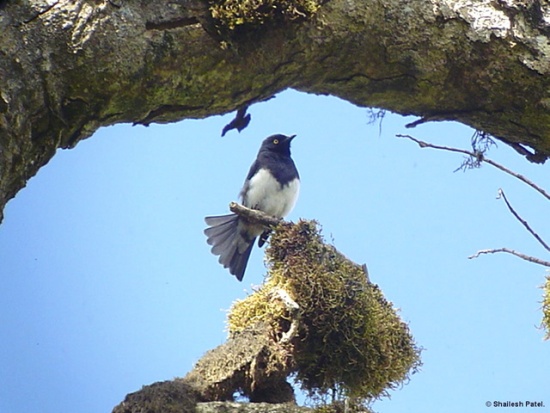 Poeoptera femoralis
Pholia femoralis; Cinnyricinclus femoralis
Identification
16-18 cm. A small and distinctive Starling.
Blue-back head, upperparts, chin, throat and breast
Creamy white belly, flanks and undertail-coverts
Whitish eye
Black bill and legs
Sexes similar. Juveniles are dark grey above, have a yellowish wash on throat and breast and a dark brown eye.
Distribution
South-central Kenya and northern Tanzania.
Rare in its small range and classified as Vulnerable in the 2008 IUCN Red List due to loss of habitat.1
Taxonomy
This is a monotypic species which is now placed in genus Poeoptera. Sometimes also placed in genus Cinnyricinclus or Pholia.
Has been suggested to form a superspecies with Sharpe's Starling.
Habitat
Mid-altitude and montane forest. Occurs from 1800m to 2600m, sometimes up to 2800m.
Behaviour
Feeds on fruits and insects. Forages in small flocks, mainly in the canopy. Breeding recorded in February, March and October. The nest is placed in a tree hole. A resident species with some local movements.
References
BirdLife International. 2008. Species factsheet: Cinnyricinclus femoralis. Downloaded from http://www.birdlife.org on 30/11/2008.
Clements, J. F., T. S. Schulenberg, M. J. Iliff, D. Roberson, T. A. Fredericks, B. L. Sullivan, and C. L. Wood. 2015. The eBird/Clements checklist of birds of the world: v2015, with updates to August 2015. Downloaded from http://www.birds.cornell.edu/clementschecklist/download/
Dickinson, EC, ed. 2003. The Howard and Moore Complete Checklist of the Birds of the World. 3rd ed., with updates to December 2007 (Corrigenda 7). Princeton: Princeton Univ. Press. ISBN 978-0691117010
Gill, F and M Wright. 2008. Birds of the World: Recommended English Names. Princeton University Press, Princeton NJ, USA. 2006. ISBN 9780691128276. Update (2008) downloaded from http://worldbirdnames.org/names.html.
Sibley, CG and BL Monroe. 1996. Birds of the World, on diskette, Windows version 2.0. Charles G. Sibley, Santa Rosa, CA, USA.
Sinclair, I and P Ryan. 2003. Birds of Africa South of the Sahara. Princeton: Princeton Univ. Press. ISBN 978-0691118154
Del Hoyo, J, A Elliott, and D Christie, eds. 2009. Handbook of the Birds of the World. Volume 14: Bush-shrikes to Old World Sparrows. Barcelona: Lynx Edicions. ISBN 978-8496553507
Recommended Citation
External Links