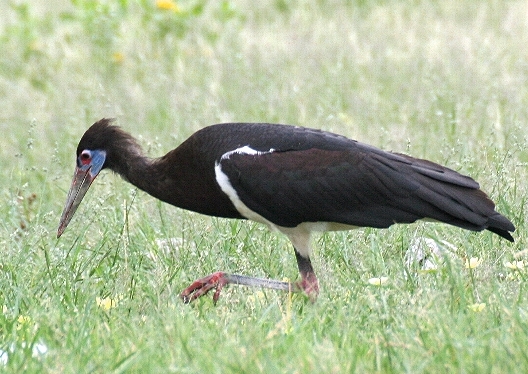 Alternative name: White-bellied Stork
Ciconia abdimii
Identification
73 cm

Black body
White underparts
Grey legs with red knees and feet;
Grey bill
Red facial skin in front of the eye
Blue skin near the bill in breeding season

The female is slightly smaller than male.
Similar Species. Black Stork is similarly plumaged, but has red bill and legs and lacks the white lower back and rump of Abdim's. Moreover, the longer legs, bill and neck of Black Stork give it a quite different flight silhouette.
Distribution
Open habitats through much of Sub-Saharan Africa - from Ethiopia south to South Africa and stretching as far west as Gambia and Senegal - and also in south-western Arabia.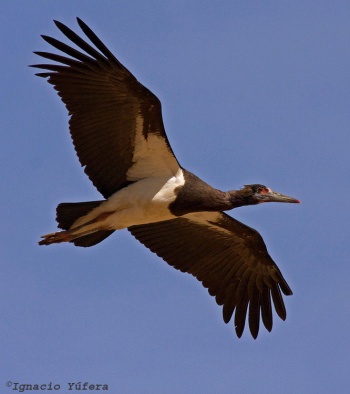 Taxonomy
Habitat
Open fields
Behaviour
Highly gregarious. Large flocks numbering hundreds may be seen in feeding parties spread through grasslands or soaring on thermals.
Breeding
Colonial breeder, nesting in trees, with each pair laying 2-3 eggs.
Diet
The diet consists mainly of locusts, caterpillars and other large insects.
In Culture
The smallest stork, the name commemorates the Turkish Governor of Wadi Halfa in Sudan Bey El-Arnaut Abdim (1780-1827).
References
Clements, JF. 2008. The Clements Checklist of Birds of the World. 6th ed., with updates to December 2008. Ithaca: Cornell Univ. Press. ISBN 978-0801445019.
Wikipedia
Recommended Citation
External Links