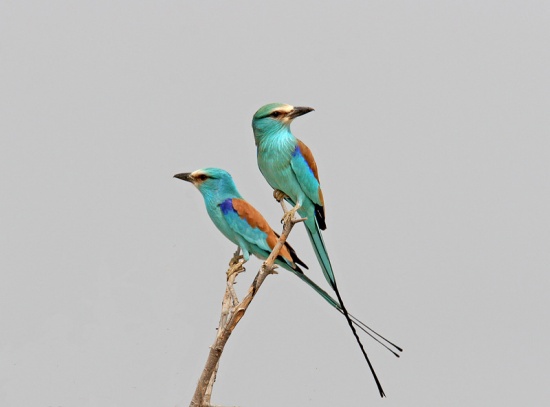 Coracias abyssinica
Coracias abyssinicus
Identification
28-30 cm: Tail streamers 12cm

Brown back
Turquoise body
Blue shoulders
Dark bill and iris
Legs and feet are horn-coloured

Sexes are similar
Juvenile is a duller version of the adult and lacks the tail streamers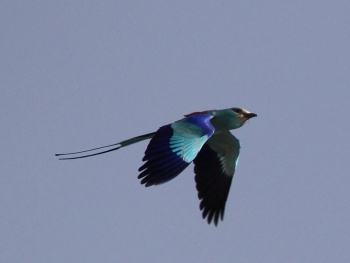 Distribution
Sub-Saharan Africa: found from Senegambia to Ethiopia, Somalia and Kenya; central Arabia
Taxonomy
Monotypic
Habitat
Acacia scub, dry savannah woodland and bushy grassland. Has also adapted to farmland and human habitation.
Behaviour
Performs aerial displays of diving, loop the loops & "rolling".
Diet
The diet includes large insects.
Breeding
It nests in a scantily lined hole in a tree or building, and lays 3-6 eggs.
Vocalisation
The call is a gak sound, or a screeched aaaargh.
References
Clements, JF. 2008. The Clements Checklist of Birds of the World. 6th ed., with updates to December 2008. Ithaca: Cornell Univ. Press. ISBN 978-0801445019.
Wikipedia
Recommended Citation
External Links