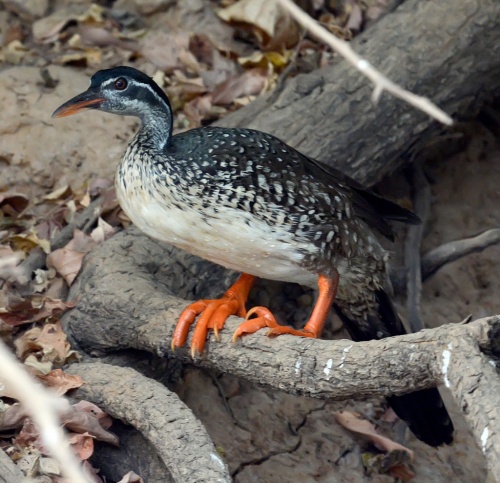 Podica senegalensis
Identification
35–59 cm (13¾-23¼ in)
The breeding male has rather dark upperparts body plumage with pale spangling and slightly paler underparts. The foreneck/hindneck are often contrastingly bicoloured with a thin grey line running from the eye down the side of the neck. The daggerlike bill is bright red, the stiff tail long and dark whilst the legs and feet are bright orange-red.
The female is an altogether paler bird with a red-brown beak, darker hindneck whitish on the lores, chin, throat and foreneck. There is a brown area extending down the neck from behind the eye thickly edged white and the female thus seems to have a more prominent neck/facial pattern.
Immatures resemble females but are much duller in the face/neck.
Distribution
Locally in sub-Saharan Africa:
Western Africa: Senegal, The Gambia, Guinea, Mali, Sierra Leone, Liberia, Ivory Coast, Burkina Faso, Ghana, Togo, Benin, Nigeria, Niger, Chad, Cameroon, Central African Republic, Equatorial Guinea, Gabon, Congo, Democratic Republic of Congo, Angola, Zaire
Eastern Africa: Sudan, South Sudan, Ethiopia, Kenya, Uganda, Rwanda, Burundi, Tanzania, Zambia, Mozambique, Malawi
Southern Africa: Namibia, Botswana, Zimbabwe, South Africa, KwaZulu-Natal, Swaziland
African Islands: Gulf of Guinea Islands, Bioko (Fernando Po)
Taxonomy
Subspecies
There are 4 subspecies1:
Habitat
Jungle rivers, streams, pools and lakes with reeds and well vegetates edges.
Behaviour
Very little is known about the behaviour of these birds which favour the aquatic fringes of riverine forest, woodland streams and dense mangrove forest.
Action
Finfoot swim with a neck-pumping motion when relaxed but if disturbed swim fast and direct to the nearest cover with the slightly kinked neck almost flat on the water. They also climb and clamber well despite their large orange finned-feet.
Diet
They eat a wide variety of insects and their larvae, including grasshoppers, mayflies, spiders, beetles, dragonflies and millipedes.
Breeding
Apparently these birds nest in tangled roots or creepers low over the water producing only 2-3 young which seem to be cared for mainly (exclusively?) by the female.
Vocalisation
Finfoot are rarely vocal but adult males have been reported to produce a loud roaring boom though this remains to be substantiated.
References
Clements, J. F., T. S. Schulenberg, M. J. Iliff, D. Roberson, T. A. Fredericks, B. L. Sullivan, and C. L. Wood. 2017. The eBird/Clements checklist of birds of the world: v2017, with updates to August 2017. Downloaded from http://www.birds.cornell.edu/clementschecklist/download/
Avibase
Handbook of the Birds of the World Alive (retrieved Mar 2018)
Recommended Citation
External Links