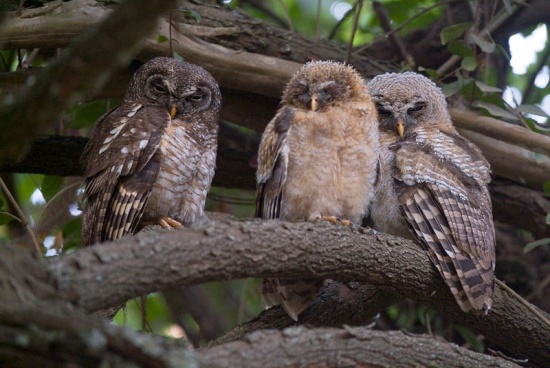 Strix woodfordii
Identification
30–35 cm (11¾-13¾ in)
Brown upperparts with white spots
Whitish underparts with reddish and dark barring
Brown facial disk with white eyebrows
Dark eyes
No ear tufts.
Distribution
Widespread throughout sub-Saharan Africa, found in:
Western Africa: Senegambia, Senegal, The Gambia, Guinea-Bissau, Guinea, Sierra Leone, Liberia, Ivory Coast, Ghana, Togo, Benin, Nigeria, Cameroon, Central African Republic, Equatorial Guinea, Gabon, Congo, Angola
Eastern Africa: Sudan, Ethiopia, Somalia, Kenya, Uganda, Rwanda, Burundi, Tanzania, Zanzibar, Zambia, Mozambique, Malawi
Southern Africa: Namibia, Botswana, Zimbabwe, South Africa, KwaZulu-Natal, Swaziland
African Islands: Gulf of Guinea Islands, Bioko (Fernando Po)
Taxonomy
There are four subspecies;
Subspecies
There are 4 subspecies[1]:
Habitat
Forest and woodland; also plantations.
Behaviour
Diet
The diet includes insects, reptiles, small mammals and birds.
Breeding
They nest in a tree cavity. 1-3 eggs are laid and incubated for about 31 days. The young fledge at 5 weeks of age and can fly by 7 weeks. The young remain with parents up to 4 months and sometimes stay until the next breeding season.
References
Clements, J. F., T. S. Schulenberg, M. J. Iliff, D. Roberson, T. A. Fredericks, B. L. Sullivan, and C. L. Wood. 2017. The eBird/Clements checklist of birds of the world: v2017, with updates to August 2017. Downloaded from http://www.birds.cornell.edu/clementschecklist/download/
Avibase
World Owl Trust
Handbook of the Birds of the World Alive (retrieved July 2018)
Recommended Citation
External Links