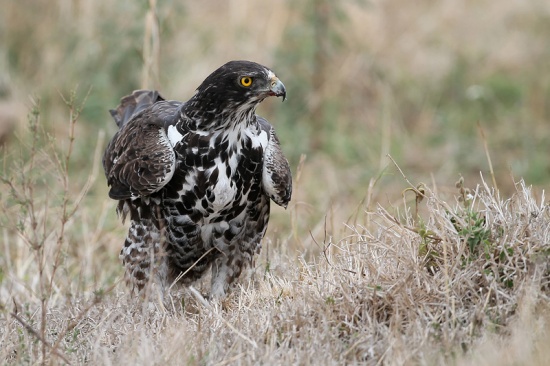 Hieraaetus ayresii
Aquila ayresii
Identification
55 cms

Brown head
Black bill
White and black throat
White legs
Brownish-black back
Yellow eyes
Variation: underside streaking can be very variable, from strongly streaked to almost clean white with dark flanks.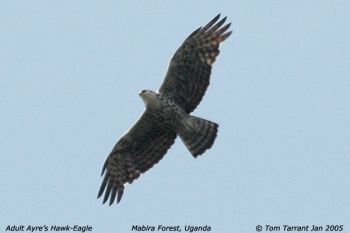 Distribution
Africa south of Sahara:
Western Africa: Guinea, Mali, Sierra Leone, Liberia, Ivory Coast, Ghana, Togo, Benin, Nigeria, Chad, Cameroon, Central African Republic, Equatorial Guinea, Gabon, Democratic Republic of Congo and Angola
Eastern Africa: Ethiopia, Kenya, Uganda, Rwanda, Burundi, Tanzania, Zambia, Mozambique and Malawi
Southern Africa: Namibia, Botswana, Zimbabwe, South Africa and KwaZulu-Natal
Taxonomy
This is a monotypic species[1].
Aquila vs. Hieraaetus
Hieraaetus species are sometimes placed in a broader defined Aquila (e.g. Clements, 2005). Sibley & Monroe (1996) and Howard & Moore (2003) retain the placement in Hieraaetus, and the Opus awaits further clarification.
Habitat
Edge of evergreen forest. Open savanna.
Behaviour
Diet
The diet includes rabbits, field mice and other rodents, and the eggs of other birds.
Breeding
The nest is built high up in the tree canopy and 1 white egg is laid.
References
Clements, JF. 2010. The Clements Checklist of Birds of the World. 6th ed., with updates to December 2010. Ithaca: Cornell Univ. Press. ISBN 978-0801445019. Spreadsheet available at http://www.birds.cornell.edu/clementschecklist/Clements%206.5.xls/view
Birdforum thread discussing id of Ayres's Hawk-Eagle
External Links