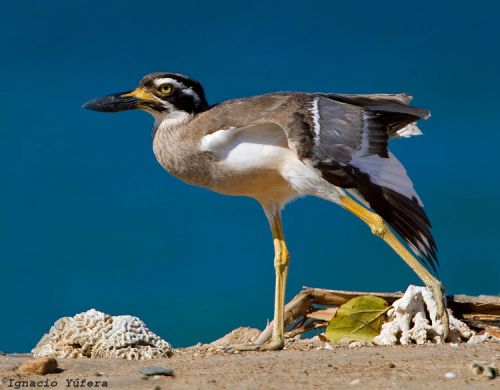 Alternative Name: Beach Stone-curlew
Esacus giganteus
Burhinus giganteus
Identification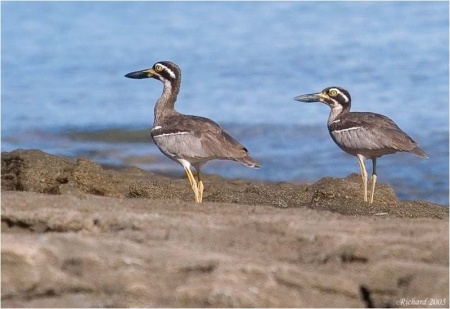 51–57 cm (20-22½ in) A large, rather ungainly bird with an outsized beak, it could be mistaken at first glance for a heron species.
Greyish-brown upperparts
Black and white striped face
White shoulder patch
Light grey throat
White belly
Similar Species
The only other thick-knee or stone-curlew to occur in Australia is the Bush Thick-knee which is more generally brownish, and is not confined to the coasts.
Distribution
Coastal Australia, New Guinea, New Caledonia, Indonesia, Malaysia, and the Philippines.
Status This large wading bird is endangered.
Taxonomy
This is a monotypic species[1].
Habitat
Open sandy and rocky beaches, exposed reefs, mangroves, and tidal sand or mudflats.
Behaviour
Diet
It is thought their diet consists almost entirely of crabs, with the addition of some other small crustaceans.
Breeding
They lay their single egg in a shallow scrape, above the tide line; on beaches, sandbanks islands are in mangroves. They will relay if the first attempt fails. Both adults defend the nest and care for the precocial young. They become independent at around 7-12 months.
References
Clements, J. F., T. S. Schulenberg, M. J. Iliff, D. Roberson, T. A. Fredericks, B. L. Sullivan, and C. L. Wood. 2018. The eBird/Clements checklist of birds of the world: v2018. Downloaded from http://www.birds.cornell.edu/clementschecklist/download/
Handbook of the Birds of the World Alive (retrieved Sept 2018)
NSW Office of Environment & Heritage
Wikipedia
Recommended Citation
External Links