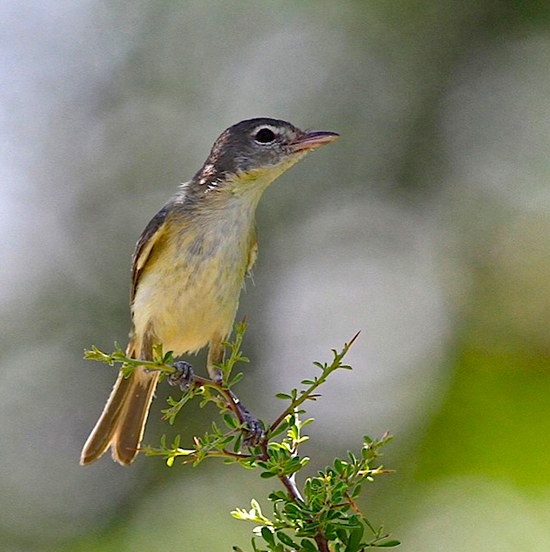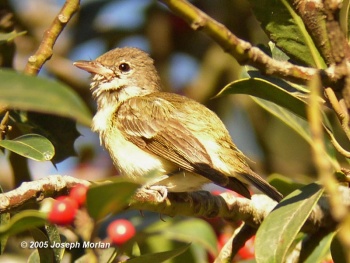 Vireo bellii
Identification
12-13 cm
Dull olive-grey above
Whitish below
Faint white eye ring and wing bars
Olive green rump
Grey-black bill
Brown eyes
Dark grey-blue-black legs

Sexes alike
Distribution
Western United States and northern Mexico; winters from Mexico south to Nicaragua. Accidental vagrant to eastern United States.
Taxonomy
Subspecies[1]
Polytypic. Consists of four subspecies.
V. b. arizonae (Arizona):
South-western US; winters from Baja and central Sonora to Colima
Arid southern California; winters to southern Baja
Habitat
Arid scrubland areas.
Behaviour
Diet
The diet includes insects and spiders.
Breeding
It makes a well-camouflaged basket-like cup nest from grass, straw-like stems, plant fibres, small skeletonized leaves, paper, and strips of bark fastened with spider silk;it is lined with fine, brown or yellow grass stems. Outside it is decorated with spider egg cases. 3-5 white with sparse spotting eggs are laid.
References
Clements, JF. 2008. The Clements Checklist of Birds of the World. 6th ed., with updates to December 2008. Ithaca: Cornell Univ. Press. ISBN 978-0801445019.
Wikipedia
BirdForum Member observations
Recommended Citation
External Links