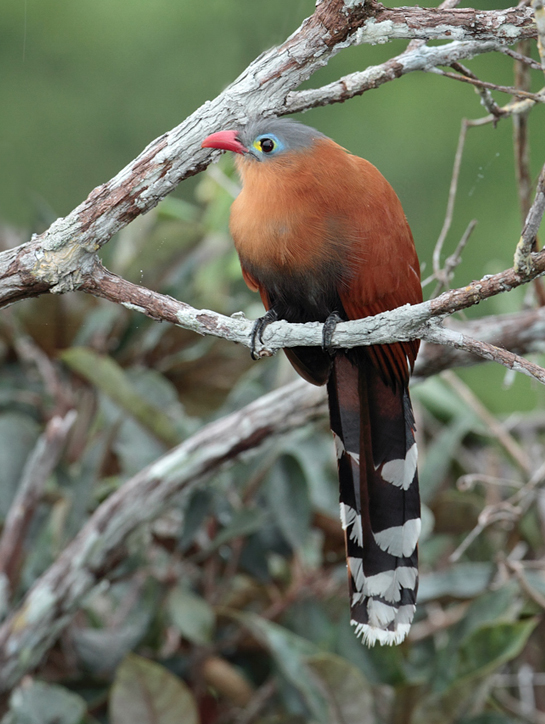 Piaya melanogaster
Identification
38cm (15 in)
Black belly and crissum
Orange-buff throat and breast
Grey cap
Rufous-chestnut upperparts
Red bill
Yellow loral spots
Sexes similar.
Distribution
Bolivia, Brazil, Colombia, Ecuador, French Guiana, Guyana, Peru, Suriname, and Venezuela.
Uncommon and little known.
Taxonomy
This is most often considered a monotypic species[1], however, some authorities recognize melanogaster and ochracea.
Habitat
Forest and low scrubby woodland areas. Occurs from lowlands up to 800m.
Behaviour
Diet
Feeds on insects, including caterpillars, beetles and ants. Feeds mainly in the canopy.
Breeding
One breeding record in July in French Guiana. The nest is undescribed.
Movements
This is a resident species.
References
Clements, J. F., T. S. Schulenberg, M. J. Iliff, D. Roberson, T. A. Fredericks, B. L. Sullivan, and C. L. Wood. 2016. The eBird/Clements checklist of birds of the world: v2016, with updates to August 2016. Downloaded from http://www.birds.cornell.edu/clementschecklist/download/
Del Hoyo, J, A Elliot, and J Sargatal, eds. 1997. Handbook of the Birds of the World. Volume 4: Sandgrouse to Cuckoos. Barcelona: Lynx Edicions. ISBN 978-8487334221
Arthur Grosset
Recommended Citation
External Links