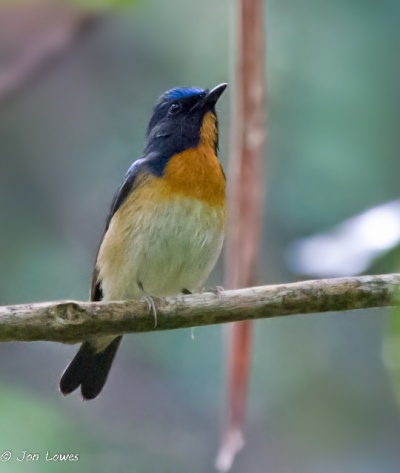 Alternative names: Blue-throated Blue-Flycatcher; Blue-throated Flycatcher
Cyornis rubeculoides
Identification
14–15 cm (5½-6 in)
Male
Dark blue upperparts and neck sides
Orange throat and upper breast
White belly
Distribution
Asia: found in China, Tibet, Nepal, India, Western Himalayas, Sri Lanka, Bhutan
Southeast Asia: Indochina, Myanmar, Laos, Vietnam, Thailand
Taxonomy
Subspecies
There are 3 subspecies[1]:
Myanmar (Arakan Yoma and lower Chindwin River area)
Formerly considered conspecific with Chinese Blue Flycatcher.Also the subspecies klossi of Hainan Blue Flycatcher was formerly included in this species.
Habitat
Dense undergrowth and ravines in wooded areas.
Behaviour
Diet
Their main diet consists of flies, cicadas and larvae, but is not too well documented.
Breeding
They construct a neat cup nest from moss, ferns and grass. They raise a single brood each year.
Gallery
Click on photo for larger image
References
Clements, J. F., T. S. Schulenberg, M. J. Iliff, D. Roberson, T. A. Fredericks, B. L. Sullivan, and C. L. Wood. 2018. The eBird/Clements checklist of birds of the world: v2018. Downloaded from http://www.birds.cornell.edu/clementschecklist/download/
Avibase
Handbook of the Birds of the World Alive (retrieved October 2018)
BF Member observations
Recommended Citation
External Links