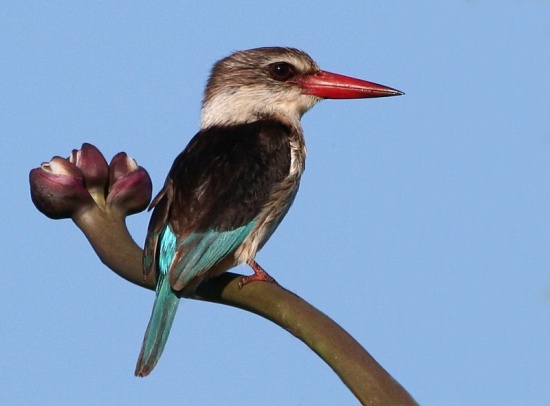 Halcyon albiventris
Identification
Length 22-24 cm, mass 60 g
Adult male: The crown and nape are brown with pale streaks, the eyebrow is whitish, and there is a dark stripe through the eye. The back and sides of the neck and upper mantle are buff, contrasting with a darker upper back. The wings are black and turquoise, the lower back and rump are azure, and the upper tail is blue. The chin is white, and the throat and belly whitish. The breast and flanks are pale brown with darker streaks.
The bill is red, tipped brown, the eyes dark brown, and the legs and feet are orange-red.

Adult female: Similar to the male, but with dark brown (rather than black) upperparts.
Juvenile: the bill starts as all brown
Distribution
Sub-Saharan Africa.
Western Africa: Gabon, DRC and Angola
Eastern Africa: Somalia, Kenya, Tanzania, Zambia, Mozambique and Malawi
Southern Africa: Namibia, Botswana, Zimbabwe, South Africa, KwaZulu-Natal and Swaziland
Taxonomy
Subspecies[1]
Up to six subspecies are recognised, varying mainly in the colour of the underparts and crown and in size. Clements recognises four:
Subspecies H. a. erlangeri and H. a. hylophila are generally considered invalid[3].
Habitat
Thornveld, open and broadleafed woodland, frequenting riverine thickets. Fairly common in wooded parks and gardens.
Behaviour
These Kingfishers do not feed on fish but eat mainly insects and lizards and sometimes young of other birds. Usually solitary or in pairs.
Vocalisation
The call is a descending trill 'Ki-ti-ti-ti' (can be interpreted as 'pity for me') repeated rapidly up to 20 times.
Breeding
They will breed in holes in trees or banks, from September to December (in southern Africa); Two to five eggs are incubated by the female for about 14 days.
References
Clements, JF. 2009. The Clements Checklist of Birds of the World. 6th ed., with updates to December 2009. Ithaca: Cornell Univ. Press. ISBN 978-0801445019.
Hockey, PAR, WRJ Dean, and PG Ryan, eds. 2005. Roberts' Birds of Southern Africa. 7th ed. Cape Town: John Voelcker Bird Book Fund. ISBN 978-0620340533
Avibase
Recommended Citation
External Links