Alternative names: Brown Chat; Indian Chat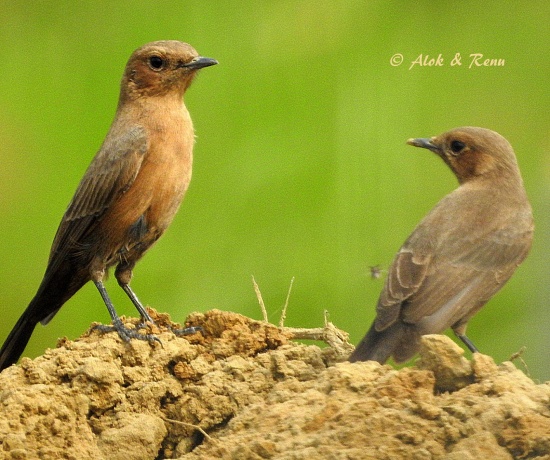 Oenanthe fusca
Cercomela fusca
Identification
17 cm (6¾ in)
Dark brown overall plumage
Wings darker
Blackish tail
Rufous-tinged supercilium
Distribution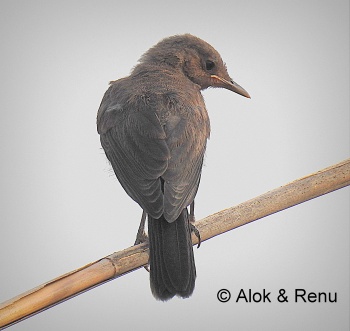 North India and north-western Pakistan.
Taxonomy
This is a monotypic species.
It's placed in genus Cercomela by Clements.
Habitat
Low rocky hills, ravines, scrubby trees, urban vegetation, open countryside. wilderness and farmland, road side areas, often near human habitation/groves.
Behaviour
Diet
Their insectivorous diet consists of beetles, ants, spiders and other, mostly ground insects. They have been seen feeding at night on insects attracted to lights.
Breeding
They nest from February to August, though usually from April to June. The nest is a cup formed from plant fibres, hair and wool positioned in a crevice. The 3-4 pale blue eggs have rusty spots at the large end. The young fledge after about 15 days from hatching. There may be 2 or 3 broods in the season.
Vocalisation
Recording © by Alok Tewari
Residential Block, Delhi, India, 29 March, 2019.
Spring/early summer song given before day-break ( 4.45 a.m. ).
References
Clements, J. F., T. S. Schulenberg, M. J. Iliff, D. Roberson, T. A. Fredericks, B. L. Sullivan, and C. L. Wood. 2016. The eBird/Clements checklist of birds of the world: v2016, with updates to August 2016. Downloaded from http://www.birds.cornell.edu/clementschecklist/download/
Gill, F and D Donsker (Eds). 2011. IOC World Bird Names (version 2.10). Available at http://www.worldbirdnames.org/.
enotes.com
Handbook of the Birds of the World Alive (retrieved September 2016)
Recommended Citation
External Links