Charadrius pallidus
Identification
Length 15 cm, mass 28-39 g. The smallest Charadrius species.
Upper parts are very pale grey (C. p. pallidus) or brownish-grey (C. p. venustus), and under parts are white with a narrow chestnut breast band.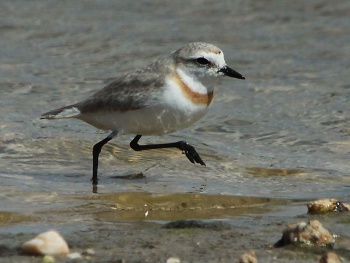 Distribution
Africa: From South Africa to Angola, Zambia, Tanzania and Kenya.
Taxonomy
Subspecies1
C. p. venustus: Smaller and has darker and browner upper parts than the nominate race.
C. p. pallidus: Very pale grey upper parts.
Habitat
Saline lagoons and pans; less frequently estuaries and sandy lagoons.
Behaviour
Found singly, in pairs, or in flocks. Forages for insects on the soil surface or in the water.
References
Clements, JF. 2009. The Clements Checklist of Birds of the World. 6th ed., with updates to December 2009. Ithaca: Cornell Univ. Press. ISBN 978-0801445019.
Gibbon, G. 2002. Roberts' Multimedia Birds of Southern Africa: Version 3. John Voelcker Bird Book Fund. www.sabirding.co.za
Lepage D. 2008. Avibase. Search for "Chestnut-banded Plover" downloaded 19 June 2008.
Recommended Citation
External Links