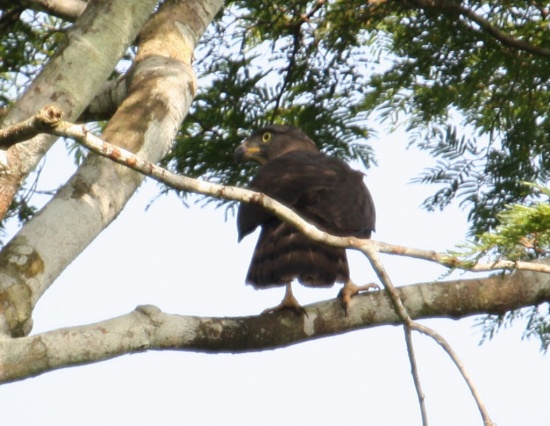 Dryotriorchis spectabilis
Identification
54 – 60 cm
Dark brown upperparts
White underparts with spots and bars
Black crown
Rufous collar
Light brown face
Dark stripe across cheeks
Dark streak down throat centre
Long tail
Short, hooked bill
Distribution
West and Central Africa: occurs from Sierra Leone and Liberia to Ghana and again from southern Nigeria east to western Uganda ranging south to Gabon (perhaps northern Angola) and central Zaire.
Taxonomy
Two subspecies are currently recognised:
Habitat
Dense primary rainforest. Rarely seen due to secretive behaviour and poor light of its preferred habitat.
Behaviour
Diet
The diet includes chameleons, amphibians, and snakes.
References
Clements, JF. 2011. The Clements Checklist of Birds of the World. 6th ed., with updates to August 2011. Ithaca: Cornell Univ. Press. ISBN 978-0801445019. Spreadsheet available at http://www.birds.cornell.edu/clementschecklist/downloadable-clements-checklist
ARKive
Recommended Citation
External Links