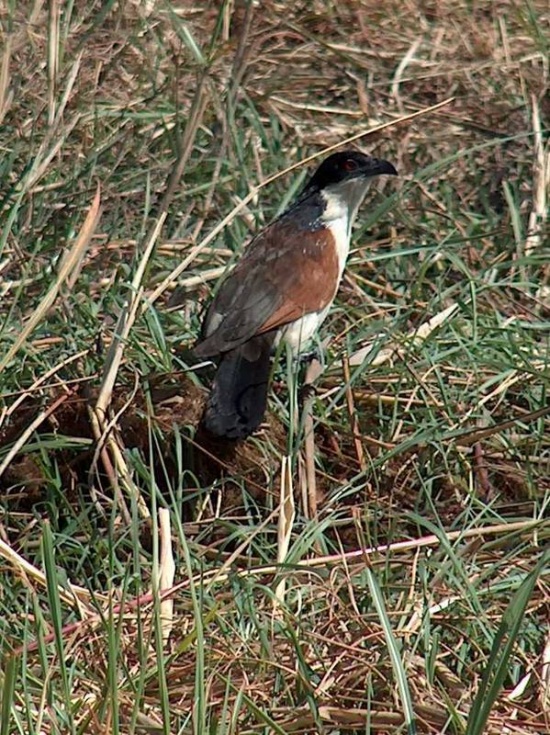 Centropus cupreicaudus
Identification
42-50cm
Violet glossed black upperback and crown
Violet gloss to head and neck
Dark brown wing and wing coverts
Rufous rump
Black, finely barred, uppertail coverts
Copper glossed brown tail
Cream underparts
Red iris
Black bill and feet
Distribution
Tropical Africa: Zambia, Caprivi (north-western Namibia), northern Botswana, Victoria Falls (Zimbabwe), Tanzania, southern Democratic Republic of Congo, and Malawi.
Taxonomy
This is a monotypic species[1].
Subspecies songweensis is generally considered invalid[2].
Habitat
Wetlands with reeds and other tall growth, swamps and marshes.
Behaviour
Diet
The diet includes snails, snakes, grasshoppers, fish, rodents and waterweed.
Breeding
A spherical nest is built from grass, twigs and straw; it is lined with leaves. The clutch consists of 2-4 white eggs.
References
Clements, JF. 2010. The Clements Checklist of Birds of the World. 6th ed., with updates to December 2010. Ithaca: Cornell Univ. Press. ISBN 978-0801445019. Spreadsheet available at http://www.birds.cornell.edu/clementschecklist/Clements%206.5.xls/view
Avibase
The Cuckoos By Robert B. Payne, Michael D. Sorenson, Karen Klitz
Recommended Citation
External Links