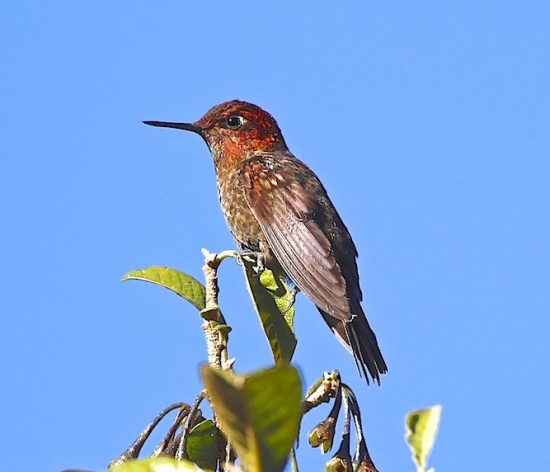 Metallura theresiae
Identification
11 cm (4¼ in)
Male
Straight black bill
Olive-bronze overall plumage with coppery-red iridescence
Distribution
South America: found only in Peru.
Taxonomy
Subspecies
There are 2 subspecies[1]:
Andes of northern Peru (Cordillera de Colán)
Andes of northern Peru (Amazonas to Huánuco)
An additional subspecies rubriginosa is generally considered invalid[2].
Habitat
Elfin forest with pockets of grassland sphagnum bogs, where they occur in shrubby open glades. Observed at heights around 3,589 m.
Behaviour
Diet
They hover-feed from flowers of Melastomataceae shrubs.
Breeding
The female lays and incubates the two white eggs.
References
Clements, J. F., T. S. Schulenberg, M. J. Iliff, D. Roberson, T. A. Fredericks, B. L. Sullivan, and C. L. Wood. 2017. The eBird/Clements checklist of birds of the world: v2017, with updates to August 2017. Downloaded from http://www.birds.cornell.edu/clementschecklist/download/
Handbook of the Birds of the World Alive (retrieved Oct 2017)
Recommended Citation
External Links