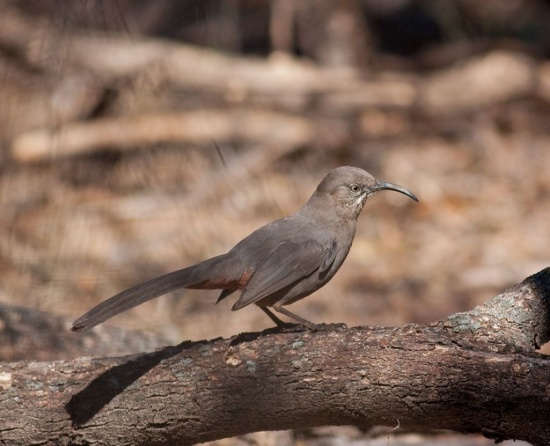 Toxostoma crissale
Identification
11.5 ins (29 cm)
Dark grey brown above
Grey below
White throat
Dark moustachial stripe
Red undertail
Rust coloured belly and undertail coverts
Long dark tail
Yellow iris
Long, down-curved bill
Dark legs
Sexes similar
Distribution
Southern California, southern Nevada, most of Arizona, most of New Mexico, western Texas and northern Mexico.
Taxonomy
Subspecies
This is a polytypic species consisting of four subspecies[1]:
Northern Mexico (Zacatecas, southern Coahuila, San Luis Potos¡ and Hidalgo)
An additional subspecies dorsale is generally considered invalid[2].
Habitat
Riparian thickets and desert areas.
Behaviour
Diet
The diet includes insects, spiders, seeds, and berries.
Breeding
It builds its nest from twigs, lined with plant material, close to the branch. The 1-4 unspotted bluish-green, eggs are incubated by both parents for 14 days.
References
Clements, JF. 2011. The Clements Checklist of Birds of the World. 6th ed., with updates to August 2011. Ithaca: Cornell Univ. Press. ISBN 978-0801445019. Spreadsheet available at http://www.birds.cornell.edu/clementschecklist/downloadable-clements-checklist
Avibase
Cornell Lab of Ornithology
USGS
Whatbird.com
Recommended Citation
External Links